On the Banks of Plum Creek
Book information
Author(s)
Publication information
Publisher
ISBN

0064400042

Chronology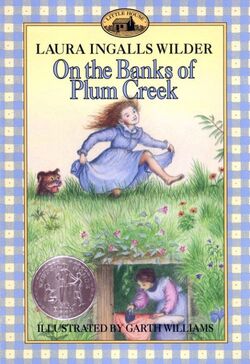 On the Banks of Plum Creek is the fourth book written by Laura Ingalls Wilder in the Little House book series. It was published in 1937 and illustrated originally by Helen Sewell, and in later editions by Garth Williams. It is also the third best-selling book from the Little House series.[1][2]
Story
The Ingalls family moves from Kansas to Minnesota and settles in a dugout "on the banks of Plum Creek" as in the book's title. Pa trades his horses Pet and Patty to the property owner (a man named Hanson) for the land and crops, but later he gets two new ones at Christmas time, which Laura and her sister Mary name Sam and David. Pa soon builds a fine, new house made of boards, which the family moves into. The house is near a town called Walnut Grove. During this story, Laura and Mary go to school for the first time where they meet their teacher, Miss Eva Beadle. They also meet the mean and snobby Nellie Oleson who makes fun of them for being "country girls".
Laura plays with her bulldog Jack when she is home, and she and Mary are invited to a party at the Oleson's home. They invite all the girls (including Nellie) to a party at their house to reciprocate. The family soon goes through hard times when a grasshopper plague destroys all the crops in that part of Minnesota. The severe grasshopper plagues of the late 1870's and early 1880's - which ended in the 1890's as suddenly as they had begun - can be read about in depth in the Wikipedia article Rocky Mountain Locust. The book ends with Pa returning safely to the house after being unaccounted for during a severe four day blizzard. Laura is portrayed in this book as being from being seven to nine years old.
Description
Laura and her family find a new home in Walnut Grove, Minnesota, where the nearby creek and swimming hole lure Laura with dangerous, yet thrilling adventures. Too soon, their life is threatened when prairie fires and other strange events jeopardize their crops.

—On the Banks of Plum Creek, back cover
Little House Books
References
External links
Community content is available under
CC-BY-SA
unless otherwise noted.