Lou Bates
Personal Information
Sex/Gender:
Male
Born:
unknown
Died:
unknown
Series Information
Biography
A widowed circus man and young father named Little Lou Bates (Billy Barty) makes a promise to his wife Alive (Patty Maloney) to quit the circus and move to Walnut Grove to try to make a living with his newborn daughter after his wife dies after childbirth. 
He interviews for a job at the bank, but a prejudiced Mrs. Oleson refuses to do business as long as he is employed there. Jobless, Little Lou begins stealing from the Mercantile to support his baby daughter. Just before he is set to go on trial for theft, Nancy falls down a well, and Little Lou is the only one who can reach inside to save her. Mrs. Oleson realizes how wrong she was and gets the charges dropped against Lou, who gets the job at the bank.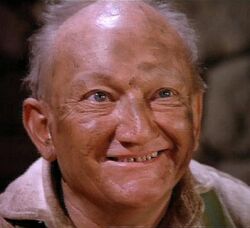 Behind of Scenes
Lou Bates was played by Billy Barty
Community content is available under
CC-BY-SA
unless otherwise noted.