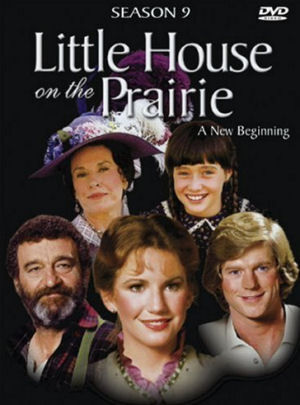 Little House on the Prairie: Season 9 is a DVD box set that includes all of the episodes from season nine of the Little House on the Prairie television series. In the United States, original episodes from the season aired from September 27, 1982 to March 21, 1983.
It was released in region one format on November 1, 2005; it has not yet been released in region two. This was also the lowest ranked season of Little House, charting it at number 28.[1]
Disc Features
Disc one
Disc two
Disc three
Disc four
Disc five
Disc six
Season notes
Principal cast
Recurring cast
Special guest cast
Season 9: A New Beginning (1982–1983)
When Michael Landon decided to leave the show, it was renamed, the focus was put on the characters of Laura and Almanzo, and more recurring characters were added. Landon did, however, stay on as executive producer, and wrote and directed occasional episodes as well.
Season 9 episodes
No. in series
No. in season
Title
Director
Writer(s)
Original air date
Production code
183
1
"Times Are Changing (Part 1)"
Michael Landon
Maury Dexter
September 27, 1982
8451
In the spring of 1887, Charles, having suffered a hard winter and wanting to pursue a promising life, has moved the Ingalls family to

Burr Oak, Iowa

. He completes the sale of their homestead to the Carter family from New York, and is given a farewell party by his friends. John Carter is the new town blacksmith and his wife Sarah starts a newspaper, the Walnut Grove Gazette. 

Four months later, Laura announces her resignation from Walnut Grove School to raise Rose at home and introduces the kids to their new teacher, Etta Plum. Almanzo's brother, Royal, arrives with his daughter, Jenny, and with a devastating secret: he is terminally ill and the true reason he is visiting Walnut Grove is to give Jenny a chance to get to know Laura and Almanzo, who will become her adoptive parents.

184
2
"Times Are Changing (Part 2)"
Michael Landon
Maury Dexter
October 4, 1982
8452
The Carters, including their sons Jeb and Jason, adjust to life in Walnut Grove, but Jenny has a hard time doing so after her father dies. She blames herself and Laura for her father's death, saying that she should have been told that he was ill. After Reverend Alden assures her that she will see her parents again in heaven, Jenny tries to drown herself to join them, but Jeb conquers his fear of water and dives in and saves her. Then Laura teaches Jenny a 'tough love' lesson on the importance of life, like Charles had done for her. 
185
3
"Welcome to Olesonville" 
Paul W. Cooper
Maury Dexter
October 10, 1982
8454
Mrs. Oleson finds an old Walnut Grove Bearer Bond and, claiming that she is owed over $14,000 in unpaid interest, uses it to have the town renamed Olesonville. However, when she wants her compliant husband elected as mayor, she encounters unexpected opposition from some of the town's oldest inhabitants.




186
4
"Rage"

B. W. Sandefur

Maury Dexter
October 18, 1982 
8456
A farmer named Mr. Stark is denied a loan at the bank and soon goes bankrupt. He flies into a terrible rage and shoots his wife and daughter, and takes off. The citizens of Walnut Grove organize a posse to track him down, but, as they are searching for him, he chances upon the Wilders' house, and Laura and Jenny must rely on their wits to escape from a dangerous situation.




Guest stars:

Robert Loggia

,

Tammy Lauren

,

Ronnie Scribner

 

187
5
"Little Lou"
WrittenBy=Michael Landon
DirectedBy=Victor French
October 25, 1982
8453
A widowed circus man and young father named Little Lou (Billy Barty) makes a promise to his wife to quit the circus and move to Walnut Grove to try to make a living after his wife dies during childbirth. 

He interviews for a job at the bank, but a prejudiced Mrs. Oleson refuses to do business as long as he is employed there. Jobless, Little Lou begins stealing from the Mercantile to support his baby daughter. Just before he is set to go on trial for theft, Nancy falls down a well, and Little Lou is the only one who can reach inside to save her. Mrs. Oleson realizes how wrong she was and gets the charges dropped against Lou, who gets the job at the bank.

Note: An episode of Bonanza, titled "It's a Small World", had a story with a similar theme to this episode. Both episodes were written by Michael Landon. 

188
6
"The Wild Boy (Part 1)"

Vince R. Gutierrez

Victor French
November 1, 1982
8457
Dr. McQueen (Anthony Zerbe), an unscrupulous traveling medicine man, visits Walnut Grove to sell his elixir and promote his sideshow attraction, the "Wild Boy", a wild-looking boy in a cage who goes mad when McQueen beats him with a stick for the entertainment of his customers. 

When the Walnut Grove children sneak into the tent and Nancy pokes the boy with a stick, Jenny defends him. Later, the boy escapes and takes refuge in the Wilders' barn. Jenny finds him there and befriends him, and she discovers he is not really wild, only mute and tortured, and that his name is Matthew Rogers (Jonathan Hall Kovacs). Then Almanzo and Laura discover Matthew is regularly beaten by McQueen and given morphine elixir. While they try to keep Matthew safe with Mr. Edwards, McQueen posts a reward for the boy's return, which Nancy hopes to claim. 

189
7
"The Wild Boy (Part 2)"
Vince R. Gutierrez
Victor French
November 8, 1982 
8458
Laura has taught Matthew, Jenny and Mr. Edwards sign language and Matthew has become accepted by many of the adults and children of the town. However, Nancy, whose mind is focused on the large reward, leads McQueen to Mr. Edwards. This initiates a custody battle between McQueen and Mr. Edwards.  The judge initially decides to have Matthew placed in a mental hospital for his protection, but after a heartfelt and tearful speech by Mr. Edwards, he allows Matthew to stay with him in Walnut Grove as long as he keeps it quiet. 
190
8
"The Return of Nellie"
Don Balluck
Maury Dexter
November 15, 1982
8459
Nellie returns to Walnut Grove, and most of her family try to make it the best visit ever. But what will happen if Nancy does not get the attention she normally gets?




191
9
"The Empire Builders"

Larry Jensen

Joseph Pevney

November 22, 1982
8460
The railroad is coming to Walnut Grove, and with it the promise of jobs and economic growth. But that joy turns sour when the townspeople learn the side effects: the railroad needs property easements, forcing many farmers from their homes, and plenty of ill repute to boot. 
192
10
"Love"
Paul W. Cooper

Victor Lobl

November 29, 1982
8462 
Jane (Jill Schoelen), a childhood friend of Laura's who attended the blind school, visits Walnut Grove and falls in love with Mr. Edwards. He encourages Jane to have a new surgical treatment which restores her sight, and her feelings for him do not change when she sees he is much older than her. Mr. Edwards also loves Jane, but he faces hostile opinion in town, and when Laura is reluctant to offer her unqualified support for their love match, he rejects Jane and she leaves town. 
193
11
"Alden's Dilemma"
Don Balluck
Maury Dexter
December 6, 1982
8461
A traveling minister is planning a surprise for Rev. Alden; he is arranging a house for him in Walnut Grove. But this truth does not come to light until Rev. Alden concludes his congregation is planning to leave him. 
194
12
"Marvin's Garden"
Michael Landon

Michael Rhodes

January 3, 1983
8463
An aging doctor (Ralph Bellamy) is losing his sight and knows he will soon have to retire. Meanwhile, Jenny nearly drowns while looking for her locket in the lake. Her brain is partly damaged and she is unable to walk, talk and use her hands. Dr. Marvin convinces Laura to let Jenny help him with his garden to rehabilitate. She turns out to be his last patient.

Note: The main theme to this episode's original score would later serve as the theme music to Michael Landon's next series, Highway To Heaven. 

195
13
"Sins of the Fathers"

E. F. Wallengren

Victor French
January 10, 1983
8464
Sarah Carter's imposing father visits Walnut Grove, demanding they move back to New York City. Sarah will not listen and she is finally allowed to stay with her family in Walnut Grove.




Note: Victor French and Dean Butler do not appear. 

196
14
"The Older Brothers"
Michael Landon
Victor French
January 17, 1983 
8455
Mr. Edwards, and later, Almanzo and John, become mixed up with the criminal activities of a bumbling gang of outlaws.




Notes: An episode of Bonanza, titled "The Younger Brothers' Younger Brother", had a story with a similar theme to this episode. Both episodes were written by Michael Landon.
Guest stars: Geoffrey Lewis,

Robert Donner

,

Timothy Scott

 

197
15
"Once Upon a Time" 
Don Balluck
Maury Dexter
January 24, 1983
8465
At Almanzo's urging, Laura enters a writing contest and produces a novel about the Ingalls family which Almanzo and Jenny love. After travelling with Jenny to Minneapolis, Laura learns that she has won the contest and she is offered the opportunity to have her novel published. She reluctantly agrees to changes which the publishers want to make, but Jenny convinces Laura that the new version is not as good as her original and should not be published.




Note: As the episode ends, Michael Landon narrates a

flashforward

(taken from "The Little House Years"), in which his daughter Shawna Landon is the little girl running into the public library to read Laura Ingalls Wilder's third book,

Little House on the Prairie

. In real life, Laura did not start writing the 'Little House' books until she was in her fifties, encouraged to do so by her daughter Rose Wilder Lane, who was by then herself a successful journalist and author. 

198

---

199
16

---

17 
"Home Again (Part 1)"

---

"Home Again (Part 2)"
Michael Landon
Michael Landon
February 7, 1983
8467/033210
Charles and Albert return to Walnut Grove after Albert has repeated run-ins with the law for curfew violations and theft. It is soon discovered that Albert is hooked on morphine, which increasingly causes his behavior to be violent and eventually leads Charles to take drastic measures to help his son withdraw from the drug. 




Notes: Originally aired as a two-hour episode. In both

syndication

and the Lionsgate/NBC DVD, it is shown as a two-part episode. Final series appearances of Michael Landon and Matthew Laborteaux, who both return in the post-series movies. 

200
18
"A Child with No Name"
Don Balluck
Victor French
February 14, 1983
8466
"In the late summer of 1889", Almanzo and Laura's newborn son dies overnight from no obvious cause at only a week old. Without any real reason, Laura blames Doc Baker for the baby's death and his reputation and business is badly damaged, so he decides to leave Walnut Grove. Then Rose becomes sick with

smallpox

and, against Laura's wishes, Almanzo calls in Doc Baker, who has to stay with them in quarantine. After Rose recovers, Laura acknowledges that she had been wrong and that Doc Baker is a good doctor, and she persuades him to stay.
201
19
"The Last Summer"

Duke Sandefur

=Maury Dexter
February 21, 1983
8469
Jason begins doing odd jobs for an aging woman,

Ruthy Leland

(

Vera Miles

). Sarah becomes jealous over the blossoming friendship, until Ruthy reveals her that she is dying.  Jason makes plenty of happy memories with his friend before her death.

Note:  Victor French and Dean Butler do not appear. 

202
20
"For the Love of Blanche" 
Michael Landon
Michael Landon
March 7, 1983
8470
Mr. Edwards promises to care for a dying traveler's "baby," only to discover it to be an orangutan named Blanche, which makes quick friends with everyone except Nancy, who tries to swat the animal, only for it to fight back. Mrs. Oleson wants Blanche killed, but Mr. Edwards devises a plan to trick them into thinking Blanche is dead. 

Mr. Edwards decides that Blanche needs to live in a zoo. Later, Blanche saves Rose from a potentially deadly house fire that Jenny puts out, and when Jenny tells the story at school, Nancy finds out that Blanche is still alive. Mrs. Oleson demands that the sheriff make sure Blanche is dead this time, but the ape hides in a tree until the arrival of the zookeeper, who convinces the sheriff and Mrs. Oleson to let Blanche live. 

203
21
"May I Have This Dance?"
Chris Abbott
Victor French
March 14, 1983
8471
Willie graduates and his mother expects him to go on to college, but Willie has fallen in love with his girlfriend Rachel Brown, and wants to get married and take over the running of the family's restaurant.  

Mrs. Oleson opposes his plans and cruelly insults Rachel, and when Willie stands up to his mother and defends Rachel against her, she vows not to show up at the wedding. In the event, she does go, but theatrically dressed in black funeral clothes. Nels later reminds Harriet that his mother similarly opposed their marriage, and he says he has never regretted it. Meanwhile, Mrs. Flannery, a childless elderly friend of Laura's, passes away after gifting her big house to Laura and Almanzo, who set about turning it into a boardinghouse, and Willie and Rachel move in as their first boarders.

Note: This is the first appearance of [[Rachel Brown-Oleson[[ (Sherri Stoner), who also appears in the series finale and the three subsequent TV movies. 

204
22
"Hello and Goodbye"
Don Balluck
Michael Landon
March 21, 1983
8472
Matthew's natural father arrives in Walnut Grove, wanting to reclaim custody after years of searching for him. Initially, Matthew is angry that his parents abandoned him as a baby, but, after learning why they did it and receiving a gift of his late mother's bible, Mr. Edwards helps him to decide to leave town to live with his father. A devastated Mr. Edwards decides he will move into Laura's new boarding house, where a multi-talented English writer named Sherwood Montague has also taken up residence.




Note: At the conclusion of the 1982-83 season,  Michael Landon and NBC jointly decided to end the series. Despite still ranking in the top 30 programs, Little House had two consecutive years of declining ratings, and Landon had not imagined the series lasting long enough for Laura to become an independent, married woman. [2] To wrap up the storylines, three TV movies were aired in the following television season. This is the last appearance of Harriet Oleson (Katherine MacGregor), who does not appear in the post-series movies. Also this is the first appearance of Sherwood Montague, who appears in the three post movies. 
References
External links