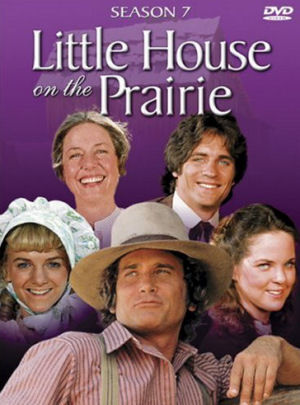 Little House on the Prairie: Season 7 is a six-disc DVD collection that contains all twenty-two episodes from the seventh season of Little House on the Prairie. Each episode has been digitally restored with "state-of-the-art color correction, picture enhancement and noise reductions technologies."
The box set was released in region one on February 15, 2005, it has not been released in region two. For the television rankings from 1980 to 1981 season seven ranked in at number 10.[1]
Disc features
Disc one
Disc two
Bonus features
Disc three
Disc four
Bonus features
Disc five
Bonus features
Disc six
Bonus features
Interactive Quiz: Season 7 Trivia Challenge
Season notes
Laura and Almanzo marry.
Nellie gives birth to twins.
Principal cast
Recurring cast
Season 7 (1980–1981)
Season 7 episodes
No. in series
No. in season
Title
Director
Writer(s)
Air date
Production code
139
1
"Laura Ingalls Wilder (Part 1)"
Michael Landon
Michael Landon
September 22, 1980
7052
Six months before their planned wedding, Almanzo buys land for free from a Mr. Gray for a farm for him and Laura, but he agrees to a harsh deal that he must pay off the mortgage by a deadline or lose the title. When there is a drought, Gray, who owns the neighbouring farm, dams the stream which also waters Almanzo's land, thereby threatening Almanzo's crop and his ability to meet the deal. 

Eliza Jane falls in love with Harve Miller (James Cromwell), a friend of Almanzo's who has come to live in Walnut Grove. Laura begins teaching at the Walnut Grove school, but Almanzo strongly objects to the idea of her teaching after they are married, insisting that he will provide for them and will not want her to go out to work. Nellie finds out that she is pregnant, which comes as a shock to her mother.

Notes" "Steve Tracy as Percival Dalton" now appears in the opening credits, but they still show "Nellie Oleson" despite her marriage which made her Mrs. Percival Dalton. The Victrola record player seen in the Wilders' house was actually not marketed until 1906, over twenty years after Laura was married. Carrie has also inherited Laura's pigtail hairstyle in light of Laura no longer wearing them, showcasing that she has matured to about the same age as Laura at the start of the series. 

140
2
"Laura Ingalls Wilder (Part 2)"
Michael Landon
Michael Landon 
September 29, 1980
7053
When the drought continues, Almanzo loses his crop and the land. Laura suggests she take the teaching position in Radnor to help them earn money for a new farm, but Almanzo still objects and postpones the wedding. After another argument, Laura breaks their engagement. The relationship of Eliza Jane and Harve seems to blossom, but when she tells him she loves him, he reveals he is in love with someone else. The loss of her dream incites Eliza Jane to strike out for a new life elsewhere and to bring Laura and Almanzo back together by allowing Laura to take the teaching job in Walnut Grove, along with the house which goes with it. Almanzo agrees, and he and Laura are married at the Blind School in Sleepy Eye.




Note: In real life, Laura and Almanzo were married August 25, 1885 in DeSmet, South Dakota when she was 18 and he was 28. Grace was then 8 years old, but is only 3 here, and Carrie was 15, but is only about 10 here. The real Laura's teaching career ended when she married. 

141
3
"A New Beginning" 
John T. Dugan
William F. Claxton
October 6, 1980
7054
Trying to start a new life after Alice's death, Jonathan moves to Sleepy Eye and buys a freight business. Jonathan helps Andy resolve his feeling that Mary and Adam are to blame for his mother's death. The fledgling business quickly becomes the target of robbers, and Jonathan becomes a deputy to support the sheriff in dealing with the villains. With help from Charles, Jonathan catches the ringleaders, but then Andy is beaten up by the gang, and the repercussions lead to a violent and tragic outcome.




142
4
"Fight Team Fight!"
Don Balluck
Michael Landon
October 13, 1980 
7056
Former college football star Pete Ellerbee comes to Walnut Grove to coach the town's football team and to be really silly and encourage his son in being a footballer. Albert joins the team and is inspired by Ellerbee's stirring pep talks about teamwork, responsibility and doing your best. 

Ellerbee's real goal is just to win, which for him proves manhood and pride, but his demands upon the boys' time leads him to a confrontation with Laura as their teacher. Soon, Albert and the others find football is not so much fun, and when Ellerbee's single-mindedness endangers Albert's well-being, Charles has to step in. Albert then decides that his priority is his studies and that for him football should be for fun. Pete begrudgingly resigns to making football practice less severe, after nearly destroying his marriage and family life. 

143
5
"The Silent Cry"
Michael Landon
Michael Landon
October 20, 1980
7051
Houston, the cantankerous caretaker at the Blind School, tries to help two orphaned boys. The younger one, Josh (David Faustino), has not spoken since his arrival at the orphanage in Sleepy Eye, making him unappealing to a potential adoptive couple, but his older brother, Michael, refuses to be separated from him, so they run away, and Jonathan, as deputy, spends much time searching for them. Houston hides the boys, and they become attached to him and he wants to adopt them, but is told that would not be possible for him. However, his impassioned intervention on behalf of the boys produces a change in Josh which changes the minds of the couple previously wanting to adopt only Michael, and they agree to take Josh too.

Notes: An episode of Bonanza, titled "The Sound of Sadness", had a story with a similar theme to this episode. Both episodes were written by Michael Landon. Melissa Gilbert and Karen Grassle do not appear. 

144
6
"Portrait of Love"
Michael Landon
William F. Claxton
October 27, 1980 
7055
A young, talented painter named Annie Crane (Madeleine Stowe) is the talk of the town for her talent, despite having lost her sight in early childhood. 

An art exhibitor is impressed by Annie's work and arranges for her pictures to be publicized. Annie's birth mother realizes who she is and tries to arrange a meeting, but Annie refuses, embittered by memories of being abandoned by her as a child. Caroline intervenes to bring about a reconciliation. Meanwhile, with Nellie's permission, Percival confronts his mother-in-law over her interference in their lives by her over-protectiveness of Nellie. Annie's mother, married to her second husband, tells him not to reveal the fact that she is also blind, but the truth comes out when she is reunited with her child, who reveals that she suffered a bout of scarlet fever, and Annie's biological father passed away (possibly due to contracting the fever as).

The aftereffects caused her to go blind, and she was carrying Annie at the time of the sickness, who contracted them as well. Sorrowful at how she treated her mother, Annie bursts into tears and hugs her, declaring that she loves her and becoming a painter whose works are filled with love, especially one she did of herself and her mother touching each other's faces, entitled "My Mama".

Note: Melissa Gilbert appears briefly but has no speaking part. However, she does provide a closing narration for the episode. 

145
7
"Divorce, Walnut Grove Style"
Don Balluck
Michael Landon
November 10, 1980  
7057
Laura and Almanzo clash again over their different aspirations for their marriage, and this is aggravated when Laura comes to believe that Almanzo is having an affair with one of his former girlfriends, Brenda Sue. Laura returns to her family, saying she wants to leave Almanzo, and even picks a fight with Brenda Sue. Mrs. Oleson seems to enjoy spreading the bad news, but Charles and Caroline help to bring Laura and Almanzo back together. Meanwhile, Charles has his own problems with Laura as he tries to fit a new picture window in the house.




146
8
"Dearest Albert, I'll Miss You" 
Michael Landon
Michael Landon
November 17, 1980
7059
As part of a school project, Albert becomes pen pals with a girl in Minneapolis named Leslie (Suzy Gilstrap). Both of them fabricate stories about themselves to appear more attractive to the other: Albert postures as a tall athlete, while Leslie portrays herself as a ballerina and hides her paraplegia which confines her to a wheelchair. When Albert falls in love with her, he determines to see her by accompanying Charles when he travels to a Grange meeting in Minneapolis but, when his father refuses, Albert resorts to desperate measures.
147
9
"The In-laws"
Don Balluck
William F. Claxton
November 24, 1980   
7058
At the suggestion of Jonathan Garvey, who has more business than he can cope with, Charles and Almanzo agree to start their own freight business from Walnut Grove to Sleepy Eye, and they decide to call it 'Ingalls and Wilder'.

However, they disagree when Almanzo suggests that there might be a shortcut to get to Sleepy Eye more quickly than the usual route, so the two decide to have a race to see who is right. Almanzo makes a mistake in carrying too much uphill and is forced to unload, then finds his goods absconded by a desperately poor family, while Charles gets the hare-brained idea of leaving the beaten path and driving his horses into a creek and private property, picking up a hitchhiker who berates him for his foolishness. 

148
10
"To See the Light (Part 1)"
Michael Landon
Michael Landon
December 1, 1980 
7060
After being caught in an explosion at Jonathan Garvey's freight warehouse, Adam regains his sight after suffering a second concussion that undoes the blinding effects of the first, and revives his ambition to be a lawyer like his father. 

When he gets the opportunity to take the entrance test for law school, Adam studies with such commitment that he neglects his teaching duties, and is unaware of Mary's misgivings. This worries Mary, who starts to believe Adam will not want to stay with a blind wife now that he has rejoined the world of the sighted. Meanwhile, Nels and Percival are both concerned about their wives' eating habits.

Note: Nellie is later revealed to have been carrying two babies instead of one, explaining why she is eating much more than Dr. Baker prescribed, who misdiagnosed her as carrying just one child when the second one was too small to detect in her womb. 

149
11'
"To See the Light (Part 2)"
Michael Landon
Michael Landon
December 8, 1980
7061
Adam eventually travels to Minneapolis to take the entrance examinations for law school, but late one night he is assaulted and robbed by hoodlums. Although he recovers temporarily, he then falls seriously ill, causing him to miss the final examinations. Fortunately, a friend he has made allows him to stay at his house and be attended by his doctor. When they hear, Mary and Charles travel to see Adam, and Mary, trying to make up for her previous lack of support for Adam's ambition, persuades the college professor to allow him to complete his examinations, and Adam wins a scholarship to study law.




Historical note: The west-coast feed of this episode was interrupted near its end by an NBC news bulletin which announced John Lennon had been shot. 

150
12
"Oleson Versus Oleson"
Chris Abbott
William F. Claxton
January 5, 1981 
7062
A female campaigner for the equal rights of married women comes to Walnut Grove, looking for signatures on a petition to be submitted to the state legislature. The men are all reluctant to sign, including Nels, who is in the middle of another big disagreement with Harriet. Charles and Almanzo also oppose it, even though they believe in equality and joint ownership in their own marriages. So Caroline moves out of the house and organizes other wives in a mass 'walk out' from their matrimonial duties. Eventually, the husbands, led by Charles, decide that they can support the petition, and marital peace and harmony is restored.




Notes: The opening credits, which have previously continued to describe the now-married Mrs. Nellie Dalton as "Nellie Oleson", now simply refer to her as "Nellie". The campaigner is called Elizabeth Smith, which was also the name of a real-life advocate and financial supporter of the women's rights movement in the nineteenth century. Also in reality, the state of Minnesota passed a law to allow married women to own property in their own name in 1869, and after 1874 they could own a trade license. 

151
13  
"Come, Let Us Reason Together"
Carole & Michael Raschella
Michael Landon
January 12, 1981
7063
When Percival's parents visit Walnut Grove for the birth of Nellie's baby, Percival reveals that his real name is Isaac Cohen, much to Harriet's consternation. 

Percival's father, Benjamin, is passionately and devoutly Jewish, which brings him into conflict with Harriet and her Christian beliefs, especially over the question of which religion the new baby will be raised in. Nels brokers a truce between Benjamin and Harriet with the suggestion that a boy should be raised in the Jewish faith and a girl should be raised as a Christian. When Nellie gives birth, she unexpectedly has twins, a girl and a boy, so Nellie and Percival agree to raise their son Benjamin as Jewish and their daughter Jennifer as a Christian.

152
14
"The Nephews"
Chris Abbott
William F. Claxton  
January 19, 1981 
7064
Almanzo's elder brother Royal (Woody Eney) and his wife Millie visit Walnut Grove, and they leave their two young sons in the care of Almanzo and Laura, while Royal and his wife go away on a vacation. Royal's wife believes a parent should never say 'No' to a child, and their boys' constant mischief tries the patience of Almanzo and Laura, who are determined to adopt a different parenting style with their own children.

Notes: This is the first appearance of Royal Wilder. His wife announces that she is pregnant, and the child, Jenny, appears in season nine ("...A New Beginning"). Karen Grassle only appears briefly in the church scene, and has no speaking lines. 

153
15
"Make a Joyful Noise"
Kathleen McGhee-Anderson
William F. Claxton
Janaury 26, 1981
7065
Joe Kagen gives up his farm and moves to Sleepy Eye to work with Jonathan Garvey in his freight business and hoping to persuade Hester-Sue to marry him. However, although she has feelings for Joe, he reminds her of her shiftless and unfaithful ex-husband, and she has plans to marry a successful local businessman. Joe starts doing odd jobs at the blind school, and he befriends and helps a blind boy called Timothy (Keith Mitchell) who has failed to respond to Hester-Sue. When she sees the change in Timothy, she calls off her wedding, and tells Joe there might be a chance for them yet.

Notes: The episode title comes from Psalm 66 of the Bible. Melissa Gilbert and Karen Grassle do not appear in this episode. 

154
16
"Goodbye, Mrs. Wilder"
Don Balluck
William F. Claxton
February 2, 1981
7066
An official from the Board of Education visits to assess the Walnut Grove school for state funding and he suggests that the curriculum should be extended. At a subsequent town meeting, Laura clashes with Mrs. Oleson over what changes should be made and, when Mr. Oleson abstains and the meeting votes against her, Laura resigns and challenges Mrs. Oleson to take over the teaching, a task she gleefully accepts. 

She introduces lessons in French and art appreciation, and also a dress code, to the consternation of most pupils and many parents. Albert organizes a class rebellion against the innovations, but Laura admonishes them and surprises Mrs. Oleson by speaking up in her favor. However, when the state official returns, he says the funding will only be provided if the new curriculum subjects are those Laura wanted, so Mrs. Oleson steps down and Laura is reinstated as the teacher. 

155
17
"Sylvia (Part 1)"
Michael Landon
Michael Landon
February 9, 1981
7067
A new girl in town, petite but buxom Sylvia Webb (Olivia Barash), gets some unwelcome attention from the older boys at school, but her father and Mrs. Oleson both accuse her of leading the boys on. Her father in particular is quite enraged, claiming that her late mother had a devil in her which killed her upon Sylvia's birth, and it lives on through her. Albert spends lots of time with her and they fall in love. Then Sylvia is sexually assaulted in the woods by a masked assailant, but Mr. Webb, fearful of the townspeople's reaction, insists she keep it a secret. Later, Sylvia collapses at school, and Albert and Laura take her to Doc Baker who discovers that she is pregnant. When Sylvia and her father refuse to explain, Albert comes under suspicion. 
156
18
"Sylvia (Part 2)" 
Michael Landon
Michael Landon
February 16, 1981
7068
Sylvia's father decides that they must leave Walnut Grove. Mrs. Oleson spreads the news around the town, suggesting that Albert is the father. Sylvia and Albert meet secretly and make plans to run away and get married. To raise money, Albert gets a job with the town's blacksmith (Richard Jaeckel). 

When Mr. Webb finds out that Sylvia is still seeing Albert, he grabs his shotgun and goes to the Ingalls' house. They manage to convince him that Albert did not make Sylvia pregnant, but Sylvia has run off. As they search for her, Mr. Webb shoots and kills the mystery rapist when he attacks Albert, but Sylvia suffers a bad fall, and she later dies in the arms of a distraught, heartbroken Albert. Sylvia's father also suffers the punishment of losing his daughter for all his abuse, now alone in the world. 

157
19
"Blind Justice"
February 23, 1981
Carole & Michael Raschella
Maury Dexter
7069
Adam returns to Sleepy Eye, having completed his studies and become a lawyer, but a promised job at a local law firm falls through. Adam and Mary decide to leave the blind school in the care of Hester-Sue, and they return to Walnut Grove, where Adam opens a law firm of his own. He takes on as his first client a man accused of fraud, after the failure of a land investment deal resulted in many of the citizens of Walnut Grove losing their money. The initially angry and violent reaction from the townsfolk changes when the full story emerges at his trial.




158
20
"I Do, Again"
March 2, 1981
Don Balluck
William F. Claxton
7070
When Laura announces that she is expecting a baby, Caroline says that she is also. Later, she finds out from Doc Baker that she is not expecting but is experiencing an early menopause and cannot have any more children. This devastates Caroline, who has tried to birth a surviving true male heir for Charles and fears she is worthless to him now because this is now impossible. She falls into depression, so Charles, himself heartbroken upon learning that he will never have the chance of another natural son, takes Caroline on a trip to Wisconsin for the wedding of the son of an old friend, and there they decide to renew their own wedding vows.




Note: Laura and Almanzo now have a telephone in their house. 

159
21
"The Lost Ones (Part 1)"
Don Balluck
Michael Landon
May 4, 1981 
7071
Charles and Albert go on a delivery run for Jonathan Garvey, and they travel with the Cooper family (parents Alvin and Sarah, 11-year-old James and 8-year-old Cassandra) who are on their way to join Alvin's Uncle Jed on a gold claim. 

Encountering a steep hill, Charles and Albert (with James and Cassandra in the back of their wagon) descend safely, but Alvin loses control of his wagon which overturns, killing him and Sarah instantly. When the children's Uncle Jed (E.J. Andre) tells Charles he is too old to take care of them, Charles feels he has a responsibility to find a new home for them. After exploring various possibilities, Charles is persuaded by Albert to take the children back to Walnut Grove to search for a foster family there.

160
22
"The Lost Ones (Part 2)"
Don Balluck
Michael Landon
May 11, 1981 
ProdCode=7072
James and Cassandra settle in happily with the Ingalls family. Then Rev. Alden finds a family who agree to take in the orphans, but the husband, Isaiah Tompkins, is a harsh man who works the children to exhaustion, resulting in Laura warning them that they are failing at school. 

Also, the Tompkins' own son bitterly resents their arrival and sets up James for an unjust whipping. Eventually, James and Cassandra run away, and after Mr. Tompkins declines to help in searching for them, Charles sets off with Almanzo and Adam. When he finds James and Cassandra, he tells them that they will be going home with him, and they joyfully agree.

Notes: The film Love's Unending Legacy—co-executive produced by Michael Landon, Jr.—uses a similar theme from this episode. This is the final appearance for Steve Tracy as Percival Dalton. Alison Arngrim as Nellie does not appear again until "The Return of Nellie" in season nine. 
References
External links
Community content is available under
CC-BY-SA
unless otherwise noted.