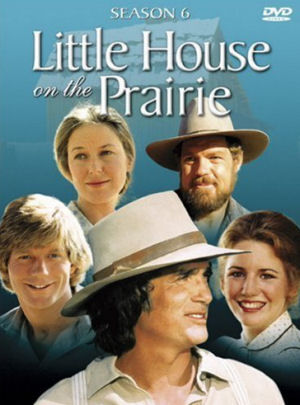 Little House on the Prairie: Season 6 is a DVD box set that includes all of the episodes from season six of the Little House on the Prairie television series. It was released in region one format on October 26, 2004 and has not yet been released in region two. In the United States, episode from season six aired from September 17, 1979 to May 12, 1980.
On the television rankings for 1979 to 1980, season six ranked at number 16.[1]
Season notes
Principal cast
Recurring cast
Special Guest cast
Season 6 (1979–1980)
24 episodes, including a special (#123) format from three episodes
Season 6 episodes
No. in series
No. in season
Title
Director
Writer(s)
Original air date
Production code
115
1
"Back to School (Part 1)"
Michael Landon
Michael Landon
September 17, 1979
6001
A new school year in Walnut Grove begins with a new teacher, Miss Eliza Jane Wilder as Alice Garvey stepped down from being the teacher at the end of the school year. With Nellie graduating, Laura (now 15) also meets Eliza's brother Almanzo (in his mid 20s), who has a remarkable effect upon her, and she is overjoyed when Almanzo tells her they should have nicknames just for each other: "Manly" and "Beth". 

Nellie and her mother also have eyes on the handsome young farmer and hope that Nellie's new restaurant and hotel will attract his attention. Charles is badly injured in an accident at the mill and has to take time off work while he recovers, so Caroline takes the post of cook at Nellie's restaurant, where Nellie has refused to do the cooking. Later, Almanzo reluctantly has dinner with Nellie, who serves his favourite cinnamon chicken, but stand-in cook Laura has maliciously laced it with lots of cayenne pepper.

Note: The Wilders make their first appearances in this episode, with

Dean Butler

as Almanzo, and Lucy Lee Flippin as Eliza Jane. 

116
2
"Back to School (Part 2)"
Michael Landon
Michael Landon
September 24, 1979
6002 
Caroline makes Laura apologize to Nellie and Almanzo. Deciding she wants to speed up becoming an adult, Laura tells her Pa to stop calling her 'Half-Pint', and asks to take her graduation exam early. 

Nellie gives Laura some bad advice and she fails the exam miserably. When Laura and Nellie end up fighting in a muddy pond, Almanzo takes Laura back to his place to clean up but he leaves Nellie in the mud, much to her annoyance. Nellie tells everyone in the kitchen at the restaurant that she caught Almanzo kissing Laura, and Charles hurries to Almanzo's house to "beat Almanzo Wilder within an inch of his life".  This leads to Charles punching Almanzo and Laura running off, before Charles finds out what really happened. After Laura talks with Caroline, who understands that she is in love with Almanzo, Laura makes up with her Pa and tells him he can still call her "Half-Pint". 

117
3
"The Family Tree"
Vince Gutierrez
William F. Claxton
October 1, 1979
6006 
The school's latest project is to create a "family tree" documenting the history of the pupils' families, which causes Albert to remember his own dark past. He has become so attached to the Ingalls family that he asks Charles to adopt him. But first, they must face Albert's real father, Jeremy Quinn, who wants a son who can help him on his farm. 

When they attend the court offices, Albert meets Mr. Quinn alone and feigns blindness in front of him. This causes Quinn to tell him he can stay with the Ingalls, which confirms to Albert that his father does not love him as Charles does. Albert is officially adopted in this episode.

118
4
"The Third Miracle"
Kenneth Hunter
Michael Landon
October 8, 1979
6005 
Laura and Albert work hard to harvest honey from a beehive after making a deal with Mr. Oleson, who said he would buy it at 30 cents a pound. Meanwhile, Adam wins a teaching award and must travel to Minneapolis to receive it, but they do not have enough money for the trip. Laura and Albert offer to sacrifice their earnings from selling the honey to cover most of the cost. Mr. Oleson is out of town on a buying trip, and Mrs. Oleson attempts to swindle the children by only offering them 15 cents a pound. Albert cleverly offers Mrs. Oleson their main beehive for the full amount promised, and she accepts. 

En route to Minneapolis, Mary, Adam and another woman are involved in a serious stagecoach accident due to a faulty wagon wheel. Mary is the only one who is able to seek help, since Adam is injured and the other lady in the stagecoach is pregnant and about to go into labor. While she is climbing up a hillside, her old glasses fall out of her pocket and the lenses magnify the sunlight and soon start a fire, which acts as a signal for Charles and Jonathan, who are searching for them. Meanwhile, Laura and Albert get Mrs. Oleson and Nellie to come pick up the hive (just a small nearby log full of bees), not telling them they're actually doing it during the time the bees are the most active and mean, causing them to get attacked on the way home.

Note: Leslie Landon appears in this episode as the other woman in the stagecoach. (She also appears in season one's "Plague", season

Season 3's

"[[The Election[[",

Season 8's

"A Wiser Heart", and joins the cast in season nine, as Etta Plum). 

119
5
"Annabelle"
Del Reisman
William F. Claxton
October 15, 1979
6003 
When the circus comes to town, Nels discovers that his estranged obese sister, Annabelle, whom he was always ashamed of when they were kids, is the Fat Lady, and seeks to avoid anyone knowing this. When Annabelle visits the Blind School, Nels' shame is still apparent.

Meanwhile, Laura becomes depressed when she goes to ask Almanzo to the circus, only to find out that he is already taking a rude, snobby and snooty young woman named Christie, for whom she has been mending a dress. When she delivers the dress five minutes late, Christie refuses to pay her the full amount.  Laura has a heart to heart with the sad clown about Almanzo and discovers the clown is the circus manager. He keeps her secret and allows her to be an unrecognizable clown at the circus. Laura seeks revenge on Christie when she becomes a guest clown for the circus, dumping water on her and, after she runs off, kissing Almanzo. Later at the circus, Nels announces [as the ring master] to all in attendance that Annabelle is his sister and how proud he is of her.

120
6
"The Preacher Takes A Wife"
Story by: John T. Dugan
Teleplay by: Blanche Hanalis
Maury Dexter
October 22, 1979
6007 
Rev. Alden falls in love with a member of his congregation and marries her, but almost comes at a cost when Mrs. Oleson attempts to tear their relationship apart, distressing the Reverend to illness. Mrs. Oleson reports Rev. Alden to church leadership, but the tables turn when the minister representative (

William Schallert

) turns out to be her former fiancé, who broke their engagement when unable to commit to serving "both God and marriage".

Note: This would be the only episode showing Alden's married life as his wife would not appear in another series episode, leaving that plot hole ambiguous. She is mentioned in a later story ("The Faith Healer"). 

121
7
"The Halloween Dream" 
Michael Landon
Michael Landon
October 29, 1979
6011 
Before going to a Halloween party at Nellie's dressed up as Indians, Albert and Laura take a nap because they will be staying up late. Albert has a dream in which they are mistaken for real Indians and taken to the camp of a tribe which believes Albert is the son of an Indian chief. 
122
8
"The Return of Mr. Edwards"
Arthur Heinemann
Michael Landon
November 5, 1979
6004 
Mr. Edwards has become prosperous owning a logging business. After Alicia brings him lunch, she is endangered by a falling tree, and although Edwards saves her, he is hit by the tree, badly injuring one of his legs. 

Having to use a crutch and fearing he is crippled for life and will be a burden to his family, he falls into severe depression. Grace writes to the Ingalls asking for their help. Charles and Laura travel to visit, and after Laura seems to revive Edwards' old spirit, he suggests a hunting trip for the three. However, it soon transpires that Edwards has other plans, and twice Charles has to stop Edwards from trying to commit suicide. In desperation, Charles pretends to have been injured in a gun accident, and Edwards has to walk out for help, shocking him back to his old, irascible self.

Notes: This is Victor French's first appearance on the show in two years (due to his commitment to his previous series,

Carter Country

). He will not appear on the show again until season eight. This is also Bonnie Bartlett's final appearance as Grace Snider Edwards. The character appears in season eight's "A Promise to Keep", but is played by Corinne Michaels. 

123
9
"The King Is Dead"
Michael Landon
Michael Landon
November 12, 1979
6010 
Milo Stavropoulis is a former Greek champion wrestler forced to become a

jobber

in order to pay for his ailing wife Anna's continued medical treatment. His boss, an unscrupulous professional wrestling promoter persuades Jonathan to compete for a large money prize in his shady wrestling competition in Mankato, duping him into facing the current champion Hans. 

After Jonathan wins a rigged preliminary bout, many of the residents of Walnut Grove bet on Jonathan to win the final, including Mrs. Oleson who risks the money entrusted to her as treasurer for the church. Milo receives word that Anna has chosen to discontinue her treatments for the sake of her husband's pride, because hanging on to life is causing him pain; she has passed away, leaving him with the words, "Life is a temporary condition- love is forever.".  Milo, no longer constrained to throw fights, decides to show Jonathan what he's really getting into and takes his place in the championship bout to prevent his boss from raking in easy money, ironically causing Harriet to more than double the church fund, much to Nels's dumbfounding. However, this final match strains elderly Milo's heart, and he dies after the match concludes with his victory and his pride restored. Touchingly, the spirit of Anna appears to carry him away into the afterlife, and Milo echoes her statement, "Love is forever."

N/A -—
Special #1
"The Little House Years"
None credited
None credited
Novmber 15, 1979
6680 
In this three-hour special, the Ingalls family spends Thanksgiving reminiscing their past years in Walnut Grove (via clips from previous episodes).


Notes: Originally shown as a three-hour TV movie, depicting memorable episodes from the series, in syndication it is shown in three parts. This episode is not numbered as it was originally shown independently from the series. In the flashforward, Michael Landon's daughter Shawna Landon is the little girl running into the public library to read Laura Ingalls Wilder's third book, Little House on the Prairie. 

124
10
"The Faith Healer"
Don Balluck
Maury Dexter
November 19, 1979 
6009 
A traveling minister,

Jacob Danforth

, comes to Walnut Grove on a 'healing' crusade and attracts a large attendance at his meetings where some people make miraculous recoveries. Despite the death of a young local boy whom he had treated, Danforth is asked to replace Reverend Alden who prepares to leave. Then, on a business trip to Sleepy Eye, Charles discovers the truth about Danforth's methods: he performs a schlemiel from town to town with the same three performers in the audience pretending to be disabled, and Reverend Alden is persuaded to stay on. 
125
11
"Author! Author!"
Carole Raschella & Michael Raschella
William F. Claxton
November 26, 1979
6013 
Caroline hears that her mother and father are coming for a visit, but her mother passes away during the train journey. Caroline's father, Frederick, is inconsolably distraught, until the family—enjoying his tales of when Caroline was young—persuade him to write his autobiography. Then Charles has the idea of trying to get it published. Meanwhile, Mary is heavily pregnant, and soon gives birth to Charles' and Caroline's first grandson, Adam Charles Holbrook Kendall.




Note: Laura's voice-over during the final scene relates that "Grandpa Holbrook" passed on two years later. This episode also has a similar premise to "Journey in the Spring", in which it was Charles who lost his mother, while his father was left to grieve – and was also said to die several years later. 

126
12
"Crossed Connections"
Don Balluck
Michael Landon
December 10, 1979
6008 
The telephone comes to Walnut Grove when Harriet Oleson buys the local franchise, and, as the switchboard operator, Harriet listens in on all the phone conversations. Jonathan Garvey has recently inherited some money and has a phone installed as a surprise for his wife. 

However, Harriet overhears a secret from Alice Garvey's past regarding a hidden divorce and broadcasts it, which causes problems for the Garveys and sends Jonathan on a quest to Minneapolis to find Alice's ex-husband, a failed gambler who was in prison for a failed bank robbery. Albert and Laura get the help of the bank manager, Mr. Anderson, in teaching Harriet an expensive lesson, which includes Harriet giving her share of Oleson's Mercantile to Nels, making him the sole owner. 

127
13
"The Angry Heart"
Del Reisman
William F. Claxton
December 17, 1979
6012 
A long time ago, a drunken father abuses his wife and son, before finally storming out of his house and getting into a fight with someone who shoots and kills him in self-defense. Now a teenager, his son Tod Dortmunder, bitter and hateful over this past, comes to Walnut Grove from Chicago to live with his grandparents when his mother can no longer tolerate his ill-tempered behavior. 

After he steals Charles' pocket watch and strikes his grandfather, Charles offers to help reform Tod by having him work on his farm. When Tod has repaid his debt and prepares to leave for San Francisco, Charles gives him a gift for his hard work: a blue shirt; but it triggers his horrible memories of abuse from his father and he angrily rips it up. Charles helps Tod face and then let go of his past, and he comes to realize the importance of needing someone in his life and he makes peace with his grandparents. 

128
14
"The Werewolf of Walnut Grove"
John T. Dugan
William F. Claxton
January 7, 1980 
6014 
A new pupil, Bart, bullies Miss Wilder, the schoolteacher, and the other children, especially Albert.  Albert and Bart get into a fight and Almanzo steps in after coming out of Oleson's and seeing what is happening. When the school board fails to back her, Miss Wilder fears she will have to leave, and Almanzo tells Laura he will be leaving with his sister. So Laura helps the resourceful Albert in an attempt to bring down the bully by creating a papier-mâché

werewolf

costume, and it nearly succeeds until Carrie unwittingly exposes their prank. Now desperate to prevent Almanzo leaving, Laura rallies all the children to act together to gang up on Bart and fight back when he next picks on one of them. Bruised, Bart apologizes to Miss Wilder and promises to change his ways. Laura is happy that Almanzo will also be staying. 
129
15
"What Ever Happened to The Class of '56?"
John T. Dugan
Michael Landon
January 14, 1980 
6015 
Charles is elected to represent the farmers of Hero Township at a Grange convention in Milwaukee to consider a proposal that farming machinery should be bought directly from manufacturers, saving money for the farmers. 

At the same time, Caroline gets an invitation to the 25th anniversary reunion party of her school class of 1856 in the same city, so Charles and Caroline travel there together. They find that some of their old classmates have become financially prosperous, and are on the other side of the proposal by the Grange. However, they are saddened by the state of some of the marriages of their old friends. When they return home, they agree that they are the ones who are really successful and prosperous – with the love of their family.

Note: Caroline's former classmates refer to her as "Caroline Quiner", as they knew her at school. Frederick Holbrook, who was seen in the episode 'Author! Author!' and referred to as her father, was actually her stepfather, after her father died when she was five. 

130
16
"Darkness Is My Friend"

Vince R. Gutierrez

Michael Landon
January 21, 1980
6016 
Adam travels with Hester-Sue, Caroline and Harriet to Redwood Falls to apply for state funding for the blind school. As they will be away overnight, Laura goes to stay with Mary. During the night, Laura and Mary are taken hostage by a trio of escaped convicts, one of whom has a gunshot wound sustained during their escape. When Laura is sent to get a doctor, she goes home and tells her Pa what has happened. Charles goes to the school and poses as Doc Baker, and he manages to overcome the villains. When Adam returns, saying they were refused the funding, Charles finds a good use for the reward money he has received for the recapture of the convicts. 
131
17
"Silent Promises"
Carole & Michael Raschella
Maury Dexter
January 28, 1980
6017 
Laura offers to teach sign language to a deaf boy, Daniel, and his widowed father. Daniel makes good progress, and then he suddenly tells Laura he loves her and tries to kiss her. She does not feel the same but, when she sees Almanzo with yet another lady-friend, she considers seeking consolation with Daniel. A talk with her Pa helps her to decide that honesty will be best for both her and Daniel. Meanwhile, Albert builds a doghouse for Bandit, who seems not to understand its purpose. 
132

---

133
18

---

19
"May We Make Them Proud (Part 1)"

---

"May We Make Them Proud (Part 2)"
Michael Landon
Michael Landon
February 4, 1980 
6018

---

6019
The 1st Annual Charity Picnic is held at The Harriet Oleson Institute for the Advancement of Blind Children to raise funds to extend the building. Albert and a friend named Clay experiment with smoking a pipe in the basement and accidentally start a fire, which destroys the building and claims the lives of Alice Garvey and Adam Jr.  

Afterwards, Mary is in deep shock and denial that her baby has gone, so Adam goes to New York City to find specialist help for her and to look for a new teaching post. Albert struggles with feelings of guilt, while Jonathan Garvey starts to drink alcohol, blaming God for his wife's death. Later, a gift from Albert to Mary awakens her memory of the fire and the loss of her baby, and her screams frighten Albert into running away.  Albert eventually seeks out his estranged father Jeremy, only to stumble upon a freshly-dug grave at his homestead and realize Jeremy has just died, and he has nowhere else to go now. Charles and Jonathan set out to discover the truth about the fire and to track down Albert, and it is Jonathan who convinces Albert that it wasn't his fault that the two had died. Adam returns from New York City to announce that his father has offered to finance the rebuilding of the school, and has insisted that it be named "The Alice Garvey and Adam Kendall Jr. School for The Blind". As they unveil the plaque, Adam says "May we make them proud."

Notes: Originally shown as a two-hour episode, in syndication, it is shown over two episodes. This is the final appearance of Hersha Parady as Alice Garvey.

134
20
"Wilder And Wilder"
John T. Dugan
Maury Dexter
February 11, 1980  
6020
Almanzo's wandering younger brother, Perley Day, comes to stay, and Charles hopes Laura's feelings will shift to him, until it emerges that he is a troublemaker who doesn't care about injuring a horse, only winning bets. But Laura's dreams are still firmly focused on Almanzo, whom Charles begins to see in a new light, after Almanzo forfeits an arm wrestling match in order to save his horse from Perley Day. Meanwhile, Albert falls for a new girl in town, but she only has eyes for Andy. 
135
21
"Second Spring"
John T. Dugan
William F. Claxton
February 18, 1980
6021
Charles is in trouble with Caroline after forgetting their wedding anniversary. Nels decides he has had enough of his henpecked family life and begins selling Mercantile wares on the road. Along the way, he takes lodgings in Tracy and meets a beautiful Irish woman named Molly. 

The two begin a wonderful friendship, and they learn they have real feelings for each other. Nels finds himself fighting temptation and infidelity, complicated by Charles accidentally catching him kissing a woman who is not his wife. Eventually, Nels tells Molly he is married and that they cannot see each other anymore. Nels goes home where he and Harriet make up. 

136
22
"Sweet Sixteen"
John T. Dugan
Michael Landon
February 25, 1980 
6022
The school district's superintendent comes to Walnut Grove, looking for someone who can replace a teacher who has fallen and broken her leg. Eliza Jane recommends Laura, despite her being two weeks short of the minimum age of 16, and she passes her teacher's exam and is given her teacher's certificate and the position. 

Almanzo drives her to the town where she will teach and stay with the injured teacher. When Almanzo sees her after her first week, he begins to think he may have romantic feelings for Laura, which confuses him. So he invites Laura to a church social and is taken aback when she says she'll think about it.  Later he comes in while one of her students is showing her how flexible the rib cage is, and thinks that the student is kissing Laura.  

Almanzo punches the student out of jealousy then thinks he has no chance of Laura falling in love with him.  Charles explains to Laura that Almanzo acted out of jealousy, which means that he is now returning her feelings for him. So Laura seeks him out at the church social, and they share their first kiss on her 16th birthday. 

137
23
"He Loves Me, He Loves Me Not (Part 1)"
Michael Landon
Michael Landon
May 5, 1980
6023
Almanzo proposes to Laura, who accepts, but Charles insists that they should not marry until Laura is eighteen. Almanzo refuses to accept this, and tells Laura he plans to leave Walnut Grove and asks her to defy her father and go with him, but she refuses. 

The Olesons hire Percival Dalton to improve the operation of Nellie's failing restaurant and hotel but, even when it is temporarily renamed "Caroline's Restaurant and Hotel", Nellie stubbornly refuses to learn. Only when Percival tells her she is pretty does she soften and start to cooperate. 

As construction of the new school for the blind is progressing, Adam gets the news that his father has died, and when he and Laura go to New York they learn that his father's entire estate has been wiped out by his heavy debts and cannot now finance the new school building. However, as they return through Sleepy Eye, Laura spots an old courthouse building available for rent. Having learned that Almanzo is working in Sleepy Eye, Caroline suggests Laura go there to help set up the new blind school, but she runs into opposition from the grouchy caretaker who holes himself up in the building and the irascible rent collector.

Note: This is the first appearance of Percival Dalton (Steve Tracy) and

Houston Lamb

(

Dub Taylor

). This is also the last time that Laura wears pigtails, putting her hair up like Isaiah Edwards suggested. Laura also dons an outfit from the Oleson's mercantile that Harriet personally favored and also wore in the past. 

138
24
"He Loves Me, He Loves Me Not (Part 2)" 
Michael Landon
Michael Landon
May 12, 1980 
6024
Laura goes to Sleepy Eye to help Mary and Adam get the new blind school ready. Almanzo visits her, but their talk turns into another argument. 

However, Almanzo takes a second job so that he can secretly pay the shortfall of rent for the blind school, persuading Houston the caretaker to tell Laura that the landlord has reduced the rent. Then Laura sees Almanzo in town with a saloon girl and thinks he has found a new girlfriend. Later, through working two jobs, Almanzo becomes gravely ill with pneumonia. Charles finds out the whole story and tells Laura. She goes to care for Almanzo and, with the matter of the 'other woman' cleared up, they make up.  After Almanzo's recovery, Charles tells him and Laura they must wait one year [rather than two] before they get married. Meanwhile, under Percival's tutelage, Nellie learns to cook and be pleasant to her customers, and when he is about to leave she tells Percival she loves him. After her earlier insults, it is what Percival has been waiting for, and they get married the next day.

Note: In a humorous subversion of the "To Be Continued" end card, a little boy is seen stealing a kiss from 3-year old Grace, but Charles stops her and tells her she'll really have to wait until she's 18 to get married. The boy declares that he loves her, as Charles carries Grace away. "To Be Continued" then appear on the screen, followed by "

In Fifteen Years

". 
Episodes
References
External links