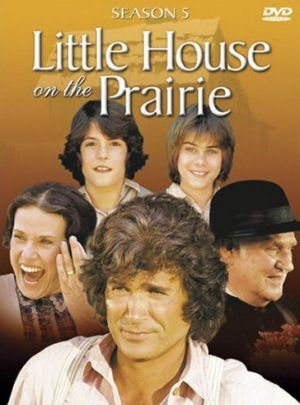 Little House on the Prairie: Season 5 is a DVD box set which includes of the episodes from season five of the Little House on the Prairie television series. It was released in region one on June 29, 2004 and in region two on August 4, 2008. In the United States, original episodes from season five aired from September 11, 1978 to March 19, 1979.
In the television rankings for 1978 to 1979 season five ranked in at number 14.[1]
Season notes
Principal cast
Recurring cast
Season 5 (1978–1979)
Season 5 episodes
No. in series
No. in season
Title
Director
Writer(s)
Air date
Production code
91
1
"As Long As We're Together (Part 1)"
Michael Landon
Michael Landon
September 11, 1978
5001
In a sense this is part three. Picking up where the previous season left off, the Ingalls family, to be near Mary. moves to and settles in the town of Winoka, where they are met by a cruel local businessman, Miles Standish (Leon Charles). Charles takes a job at a hotel Standish owns as the maintenance man. Caroline takes a job at the adjacent restaurant also Standish owned as both a cook and a waitress. 

The family moves into the hotel. Charles is disgusted at how loud the saloon gets and also the bad language used by patrons there. The Garveys then move in right behind the Ingalls family and Jonathan initially cannot find a job. Then the Olesons surprise the Ingalls and Garvey families when they move there as well. Nels takes a job at the Saloon and they move into the rooming house adjacent to the Saloon, all of which are also owned by Standish. 

92
2
"As Long As We're Together (Part 2)"
Michael Landon
Michael Landon
September 18, 1978
5002
The former Walnut Grove residents continue to adapt to life in the city of Winoka. Charles and Caroline are managing The Dakota Hotel; Nels, Harriet and Jonathan Garvey are working in the saloon; and Alice Garvey begins teaching school for the low socio economic children of town in a stable since the free school burned down and the only other school in town is a very expensive and prestigious private academy. 


Mrs. Oleson refuses to send her children to school in a barn. She then enrolls them at the Winoka Prep School much to Mr. Oleson's dismay. He insists that she pay for it herself by getting a job, which she does at a bar also owned by Standish. Also, Charles and Caroline try to get enough money to buy a present for Mary's 16th birthday. Laura writes a card in braille, and Charles sells his fiddle to get enough money, which Caroline sees in the window shop. She then tells Mary and Mary insists her mother buy the fiddle back as Mary's "present." 


At Mary's surprise birthday party, Mary says that the best birthday present she could get is hearing Pa play the fiddle, and she expresses her feelings for Laura when she reads the card. When it's time to make a wish and blow out the candles, everyone is brought to tears when she says, "I have nothing to wish for! I have everything in the world right here in this room!" Meanwhile a homeless orphan named Albert begins to have run ins with Laura and continues a life of panhandling, shoe shining, and stealing. Charles befriends Albert and he also attends Mary's party.

93
3
"The Winoka Warriors"
John T. Dugan
William F. Claxton
September 25, 1978
5003
Charles convinces Albert to attend the livery school. With Jonathan as coach, Albert and the livery school's football team challenge the undefeated private academy's football team. Both sides attempt to unbalance the game in their own favor. When it seems all is lost for the livery school, help comes from an unexpected place ... in the form of one of Adam's blind students.




Note: Andy Garvey's statement about his father, "My pa doesn't know anything about football", is an inside joke on Merlin Olsen (Jonathan Garvey) who played in the NFL for 15 years, all with the NFL's Los Angeles Rams.

94
4
"The Man Inside"
Michael Landon
Michael Landon
October 2, 1978
5004
Laura makes friends with a shy classmate, but winds up jeopardizing the friendship when she makes fun of an obese man, not knowing he is the girl's father. Hearing that his daughter is ashamed of him, the man tells his family that he got a job that would take him away from their town but instead sleeps in a storeroom in the blind school, where he works. The man's ruse is exposed once he is seriously injured at the school.
95
5
"There's No Place Like Home (Part 1)"
Michael Landon
Michael Landon
October 9, 1978
5007
After Laura is blamed for doing something to Miles Standish's son, Charles begins to dislike the city of Winoka. Caroline sees this, but Charles says that he does not want to have "my children scattered all over the world." Then after Laura argues with Mr. Standish, he threatens Laura's dad Charles with losing his job if Laura does one more thing against him or his son, Charles reprimands Laura strongly. 

As a result of this and a happy-go-lucky man, Toby Noe (Ray Bolger), gambling away all his winnings, the Ingalls family (except for Mary but still at her urging) are convinced to move back to Walnut Grove. Also, the Olesons and the Garveys decide to move back as well after Garvey loses his job for trying unsuccessfully to stop Toby from gambling his winnings. Before leaving though Standish's son accidentally sets off fireworks that were supposed be returned as a result of a canceled fireworks show (which Standish causes to be canceled). This unplanned fireworks show totals the saloon which burns to the ground. Presumably, no one is injured or killed. 

96
6'
"There's No Place Like Home (Part 2)"
Michael Landon
William F. Claxton
October 16, 1978
5008
The Ingalls, Oleson, and Garvey families are all set to return home. Charles talks Albert into joining them. The friends return home to Walnut Grove (along with Albert, who wanted to go as well), only to find the town in disrepair and a disgruntled and disabled Lars Hanson, who had been crippled by a stroke. 

It is up to the townspeople to rebuild Walnut Grove and to rekindle the spirit of both the town and Mr. Hanson, which they do. The school, church, mill, and mercantile all reopen. People clean and repair their homes as well as buildings in town. Alice Garvey decides to take over as teacher (which she only stays with for the school year) and reopen the school and they make do with farming until they can get business back into town.

Notes: A 90-minute episode, which marks the final appearance of Karl Swenson as Lars Hanson. (Swenson died a short time after this episode was filmed. His character also died, as explained in an epilogue by Laura.)

97
7
"Fagin"
Carole Raschella & Michael Raschella
Michael Landon
October 23, 1978
5010
Charles buys Albert a calf for the upcoming county fair, which Albert names Fagin. Laura grows jealous when Charles starts giving more attention to Albert. When Nellie teases Laura about having Albert as a brother, Laura socks Nellie in the eye. After Albert overhears Charles and Caroline talking about Laura's jealousy, Albert runs away, leaving Laura to take care of Fagin for the fair. When Fagin wins, Laura gets the ribbon, but then says that she wants to give it to "my brother Albert", which brings him to tears. Albert is unofficially adopted in this episode.
98
8
"Harriet's Happenings
John T. Dugan
William F. Claxton
October 30, 1978
5009
Mrs. Oleson's cousin, Sterling Murdoch, comes to Walnut Grove to start the town's first newspaper, The Pen and the Plow. Mrs. Oleson writes a column for the fledgling newspaper, and soon writes scandalous stories about the residents of Hero Township. 

When she learns that a German student Erich Schiller beat Nellie in the school spelling bee, Mrs. Oleson claims that the lad's German immigrant parents are illiterate. Charles confronts Murdoch about his newspaper, but his complaints fall on deaf ears. Laura and Albert temporarily get back at Mrs. Oleson, but she responds by writing a story suggesting Charles fathered Albert outside his marriage. Charles has enough and exposes the work of Murdoch and Mrs. Oleson in church on Sunday, clearing up the lie about the Schiller family (they could read German), then chastises the rest of the town for reading the newspaper.

Guest Starring:

Ike Eisenmann

,

John Hillerman

,

King Moody

99
9
"The Wedding" 
Arthur Heinemann
Michael Landon
November 6, 1978
5013
Adam proposes to Mary, and she accepts. Charles and Caroline travel to Joannaville for the wedding (without the children because it would be too much to pay for the train tickets). Mary starts to have doubts after hearing how hard it was for Charles and Caroline to take care of her when she was younger and how hard it would be for her and Adam to care for a baby when they are blind. When one of the students is caught in a sandstorm, Mary winds up saving her and she finds out that she may be a good mother. In the end, the wedding goes on. 
100
10
"Men Will Be Boys"
Arthur Heinemann
William F. Claxton
November 13, 1978
5005
When Albert and Andy boast they can become self-sufficient, Charles and Jonathan decide to take them on a camping trip to put that claim to rest. But Albert and Andy prove their worth, hiking for miles through woods to find a comfortable bed and meal in Sleepy Eye during a downpour.  Their fathers, who are secretly following them, wind up having to shovel manure in order to sleep in a barn, and then falling off a log bridge.
101
11
"The Cheaters"
Don Balluck
William F. Claxton
November 20, 1978
5014
The Walnut Grove school children take a series of routine tests to prepare them for the next grade, but after Andy Garvey shows barely passing grades, his mother, who is the teacher Mrs Garvey, enlists Nellie Oleson, who volunteered to help him days before with his studies to do so. Nellie does not help him learn to study but instead shows him an even "better" way to succeed by cheating, which she has also been doing. 

Meanwhile, Charles gives Albert a different lesson in cheating...cheating within the heart, as he is trying to barely pass or make just fair/satisfactory grades in school to be more popular. Andy, though does improve his grades abruptly by cheating but Laura sees him doing so during a test. Soon after, Laura walks into Andy's house and catches him red handed stealing his mom's test while the parents are away at Sleepy Eye to shop. 

Laura keeps the secret from his parents but tells her dad Charles who takes Andy fishing and in a friendly manner talks him into owning up to what he did. Andy confesses in front of the entire class and Mrs Olesen (who walked in on the class and is on the school board and insists on offering an award to the best student she presumes will be her daughter Nellie). Class is dismissed and everyone but Andy and his mom leave , but a moment later, Laura walks back in and speaks up about what Nellie had done to Andy. 

The next day for the final exams, Mrs. Garvey forces Nellie to remove her jacket she uses to hide cheat sheets. Nellie passes but not with the excellent grades she and her mom are used to her having. Andy also does pretty well on the final on his own with a higher grade than Nellie. Mrs Olesen meanwhile was awarding a blue ribbon to the best student that she expected to be her daughter Nellie but Albert wins it instead. 

Mrs. Olesen is upset and Mrs. Garvey reveals why Nellie's final exam was so much lower than her other work. When Mrs. Olesen finds out Nellie had been cheating a funny ending happens as she chases Nellie out of the schoolhouse with the other kids as well as Mrs. Garvey getting the last laugh. 

102
12
"Blind Journey (Part 1)"
Teleplay by: John T. Dugan;
Story by Carole & Michael Raschella & John T. Dugan
William F. Claxton
November 27, 1978
5011
The church council in Walnut Grove finally vote to accept black man Joe Kagan as a member, against Mrs. Oleson's and Mr. Larabee's wishes. Mrs. Olesen's husband votes to let Kagan in the church against his wife's wishes. Meanwhile, the late Mr. Hanson had willed his large house to the church in Walnut Grove. 

Meanwhile, back in Winoka, the school for the blind's building was sold from under them to Mr. Standish who planned to move the destroyed saloon and hotel there. The blind school either has to find a new location or has to close. The congregation in Walnut Grove agree to the Reverend's suggestion that the house become a new school for the blind. The school was to merge with another blind school in Kansas which would not bring their small staff but would still retain their matron, a woman by the name of Mrs. Terhune. 

The Winoka Blind School would retain Mary and Adam while its administrator would retire. When Mrs. Oleson makes a large cash donation, they also agree to name the new school after her. Charles and Joe travel to Winoka to help with the move, and they are astonished when Mrs. Oleson arrives at Winoka to accompany them and thereby meet and impress Mrs. Terhune, whom she thinks is a wealthy socialite from St. Louis and France. Leon Charles reprises his role as Miles Standish. 

103
13
"Blind Journey (Part 2)"
Teleplay by: John T. Dugan
Written by Carole & Michael Raschella
William F. Claxton
December 4, 1978
5012
Mrs. Oleson is disappointed when she discovers that Mrs. Terhune is not an elite society lady from St. Louis, as she had thought, but rather Hester Sue Terhune (Ketty Lester), the African-American caretaker of the blind school that has merged with the one run by the Kendalls. 

During the journey back to Walnut Grove, after some funny scenes where Mrs. Oleson gets dirty, falls in the lake, and damages her good clothes, she begins to question her racist behavior and appears to "reform". Adam, meanwhile, must overcome his fear of water. He tearfully reveals to Mary that he lost his sight when he slipped and fell in a creek and smashed his head on a rock, causing a concussion that impaired his eyesight, and Mary tells him it is alright for him to be afraid after what happened and helps him power through his fear. When they arrive in Walnut Grove, Nels is pleasantly surprised to see the change in his wife ... for now.

104
14
"The Godsister"
Don Balluck
Michael Landon
December 18, 1978
5006
Carrie becomes heartsick for her Pa when Charles and Jonathan take jobs on a telephone crew and must be away for weeks. When nobody has time for her, Carrie creates an imaginary friend named Alyssa, and the two have wonderful adventures together.




Notes: Originally a 90-minute episode, in syndication, it is shown in two parts. Lindsay and Sidney Greenbush appear on-screen together in the roles of Carrie Ingalls and her imaginary friend, Alyssa. 

105
15
"The Craftsman"
Paul Wolff
Michael Landon
January 8, 1979
5018
Albert takes a job as apprentice for a Jewish coffin maker, who is the target of deep prejudice in the community, particularly Harriet Oleson and Judd Larrabee and his sons.
106
16
"Blind Man's Bluff"
Arthur Heinemann
William F. Claxton
January 15, 1979
5016
Laura's schoolmate and friend, Jordan (

Ronnie Scribner

), has dreams of one day working in a circus, but is troubled by his quarreling parents, who announce that they are planning to divorce. After an accident causes temporary blindness and brings his parents close again in their concern for him, Jordan says nothing when his sight returns. Laura finds out and struggles with whether she should tell everyone. Then Jordan has another fall and the outcome leaves Laura wondering. 
  107
    17
    "Dance With Me"
                Paul Wolff
Michael Landon
January 22, 1979
5015
Ray Bolger returns as the happy-go-lucky-who-turned-bankrupt Toby Noe. He is staying with the Ingalls family, eating them out of house and home, when the spirited spinster Amanda Cooper catches his eye. Toby sets out to win her heart, but she is determined to keep him at arm's length. Meanwhile, Laura has a crush on schoolmate Jason and, with Albert's counsel, tries to get him to notice her.




Guest stars: Ray Bolger (from The Wizard of Oz film fame),

Eileen Heckart


 
Note: Originally a 90-minute episode, in syndication it is shown in two parts.

108
18
"The Sound of Children"
Carole & Michael Raschella
William F. Claxton
February 5, 1979
5019
Mary and Adam discover they are having a baby. Adam's father visits Walnut Grove upon learning the news, and convinces Adam and Mary to move to New York City so that Adam can attend law school and eventually become a partner in his father's law firm. After Mary suffers a

miscarriage

, Adam decides to stay in Walnut Grove with Mary. When Mary hears this, she says that it is what she wanted all along.
109
19
"The Lake Kezia Monster"
WrittenBy= John T. Dugan
DirectedBy= Michael Landon
February 12, 1979
5020
Mrs. Oleson attempts to evict Kezia (Hermione Baddeley) from her house by the lake. She, Willie, and Nellie move in and force Kezia to serve as their maid, but Laura, Albert, and Andy Garvey hatch a plan to drive the Olesons away: they get Kezia to concoct a story about a monster that inhabits the lake and then dress up as the monster. The plan works, the Olesons run away screaming, and Kezia keeps her house.
110
20
"Barn Burner"
Don Balluck
Michael Landon
February 19, 1979
5021
After agreeing to join all the other farmers in insisting on what they believe is a fair price from the mill-owners for their wheat, Judd Larabee breaks his promise and makes a separate deal at a lower price, partly because of his racist antagonism against black farmer Joe Kagan. 

Outraged by his betrayal, Jonathan Garvey confronts Larabee in front of his family. A vengeful Larabee goes to the Garveys house with a shotgun, but Andy is the only one home and Larabee lashes out at him, accidentally injuring him. When Larabee leaves, Andy gets a lamp and begins looking for his mom and dad. He leaves the lamp by the barn which catches on fire. When the Garveys return home, they find their barn in flames, and Larabee is fingered as the likely culprit. 

At his trial, there are several surprising developments, including Andy's confession about leaving the lamp by the barn on a windy night, which prompts the judge to throw out the barn burning charge. He still finds Larabee guilty of assault and instead of any additional jail time he orders Larabee to recompense Jonathan for the value of his lost wheat crop. Larabee's wife, as a result of his hatred of many people, takes their sons and leaves him.

Notes: This is Don "Red" Barry's sixth and final appearance as Judd Larrabee. Larabee is later said to have died a bitter, broken man, a final insult to his despised presence. 

111
21
"The Enchanted Cottage"
Don Balluck
William F. Claxton
February 26, 1979
5022
Mary suddenly thinks she is able to see light, and everybody has hopes that she might soon recover her sight. She and Charles travel to visit the eye doctor for tests, while Adam struggles with the possibility of Mary regaining her vision and what that might mean for their future. 

An excited Laura recruits Albert to help her fix up Mr. Edward's old shack for Mary and Adam to live in. However, the eye doctor discovers that Mary is only experiencing a rare condition in which her senses perceive the heat in sunlight as light [now known as synesthesia]. Charles helps Mary come to terms with the shattering of her hopes, and when they are back in Walnut Grove Mary bravely does the same for a despondent Laura. 

112
22
"Someone Please Love Me"
Michael Landon
William F. Claxton
March 5, 1979
5017
During a horse-buying trip to Sleepy Eye, Charles meets up with Brett Harper, one of the state's best horse breeders.  Harper's alcoholism has taken a deep toll on the family, which is coming apart because of the lack of a strong head of the household. Charles temporarily takes the role as the family man while he tries to sober Harper up, but his touch may have worked too well: Harper's wife and children like Charles better than drunken Brett (who had become that way after his son had died). Charles manages to convince his family that Brett is a good person, but needs to be sober to be so.




Notes: An episode of Bonanza, titled "A Dream to Dream", had a story with a similar theme to this episode, and is a near-duplication of the former story down to the spoken dialogue. Both episodes were written by Michael Landon.  Michael Landon is the only member of the regular cast to appear. This episode also reveals that Lansford Ingalls, Charles' father, has now died. 

113
23
"Mortal Mission"
John T. Dugan
William F. Claxton
March 12, 1979
5023
When many Walnut Grove townsfolk, including Laura, Albert and Adam, become seriously ill after eating

anthrax

-infected mutton, the Blind School is turned into a makeshift hospital and morgue. Charles and Jonathan, among the few who have not fallen sick, rush to get Dr. Baker's urgently needed medical supplies from the railhead at Springfield, but after collecting them they are held up at gunpoint and robbed. As their families and friends in Walnut Grove become increasingly anxious, they set out to track down the thief and recover the vital medicines. 
114
24
"The Odyssey"
Carole & Michael Raschella
Michael Landon
March 19, 1979
5024
Laura and Albert's friend Dylan has a dream: to one day see the ocean, which he loves to paint pictures of. When Dylan discovers he is terminally ill, he sets out in pursuit of his dream, and Laura and Albert join him. The trio begin the journey west by jumping a ride on a train, but their problems are only just beginning. Charles manages to catch up with them, but the children persuade him to help Dylan realize his dream of seeing the ocean before he dies. In San Francisco,

William Randolph Hearst

, the famous American newspaper magnate, helps them get to the coast, and to get home. 
Episodes
References
External links