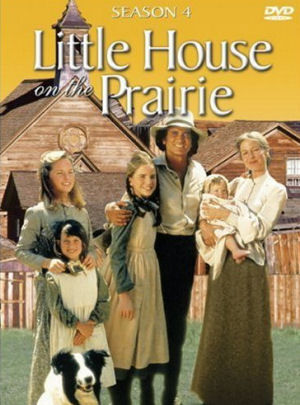 Little House on the Prairie: Season 4 is a DVD box set which includes all of the episodes from season four in the Little House on the Prairie television series. It was released in region one format on February 17, 2004 and in region two on May 26, 2008. In the United States, the episodes aired from September 12, 1977 to March 13, 1978.
In the television rankings for 1977 to 1978 it ranked in at 7, making it the highest ranked season of the series.[1]
Season notes
Principal Cast
Recurring Cast
Season 4 (1977–1978)
Season 4 episodes
No. in series
No. in season
Title
Director
Writer(s)
Original air date
Prod. code
69
1
"Castoffs"
Michael Landon
Tony Kayden
September 12, 1977
4003
Caroline orders Laura to care for her dog, Jack, before going to town to greet a newcomer, Kezia Horn (Hermione Baddeley), who lives in a house without walls. Laura becomes frustrated at Jack and gives up trying to take the foxtails out of his ears. Mary, Laura, Nellie and Willie go to visit Kezia and find out what a unique yet kind person she is. When Laura arrives home, she finds old Jack dead in the barn, who quietly passed away.

Charles assumes Jack knew his time was coming and decided to spare everyone the sadness of watching him die, but Laura feels guilty and condemned about neglecting him. In tears, she and her family bury him in the meadow. Later, Charles brings home a stray dog (Bandit) that followed him home from Mankato after sniffing out his food stock, but Laura refuses to bond with the dog, still grieving the loss of Jack. Kezia speaks to Laura about how the dog only wants to love her, and how she also wants to love others but hasn't been accepted. Guilt-ridden Laura runs to find Bandit and bonds with him. Reverend Alden speaks with Kezia, who decides to leave Walnut Grove because no one is accepting of her, and it is up to Laura to get everyone to change their minds before it is too late. In the end, Kezia stays, as well as Bandit.

70
2
"Times of Change"
William F. Claxton
Carole & Michael Raschella
October 19, 1977
4002
Charles takes Mary to Chicago, where he is attending the Grange Convention. There, Mary meets up with John Jr., who has started a job as a cub reporter for a newspaper. Former lovebirds John and Mary soon find their lives headed in separate directions, especially for John Jr., who has a new girlfriend. Meanwhile Charles has problems with the corruption he witnesses at the Grange meetings.




Note: Mike Lookinland (of The Brady Bunch) appears on the train at the end of the episode. He states that he will be going to school in Walnut Grove, but is not seen after this episode. (Melissa Sue Anderson also appeared on The Brady Bunch as Bobby Brady's friend Millicent during the last season of that show.)

71
3
"My Ellen"
Michael Landon
Michael Landon
September 26, 1977
4007
When Laura and Mary go skinny-dipping with their friend, Ellen Taylor, some boys come by to get a glimpse. The girls hide underwater until they go away. Laura and Mary come back up, but Ellen becomes trapped under the surface and drowns.

Ellen's grief-stricken mother blames Laura for the tragedy and rebuffs the efforts of several people to cheer her up. Later, when Laura pays a visit to Mrs. Taylor, she traps Laura in the basement, because in her grief she imagines that Laura is Ellen. Then Laura's things are found outside the house of Busby, a mentally challenged man whom Charles had warned his daughters to stay away from, and suspicion falls on him. While the hunt is on for Busby, Laura must rely on her wits to escape Mrs. Taylor's clutches and help her come to terms with Ellen's death, which she is finally able to accomplish. The men realize that they were wrong about Busby, and Laura later gives Busby a picture book.

72
4
"The Handyman"
William F. Claxton
Arthur Heinemann
October 3, 1977
4004
After Caroline complains about the small size of her kitchen, Charles decides to build an addition onto the house, but after starting the work he has to leave to take a rush delivery to Mankato. Caroline hires a handsome young handyman named Chris Nelson (Gil Gerard) to complete the job.

Chris stays with the Ingalls family and unwittingly becomes head of the household in Charles' absence, prompting Carrie to mistakenly call the man "Uncle Chris". Mary soon becomes convinced that her Ma and Chris are becoming romantically involved, and she freely expresses her opinions. Nellie and Mrs. Oleson don't help matters when they share Mary's suspicions. Eventually, Mary confronts Chris with her suspicions and tells him he must leave, only to find out later it was a misunderstanding. Charles later returns and finishes the new kitchen.

73
5
"The Wolves"
Michael Landon
Lawrence M. Konner
October 17, 1977
4005
Laura and her new friend, Andy Garvey, find an injured mother wolf trying to tend to her pack of baby pups. Andy takes the wolf and her babies home to care for them. He decides to move them to the Ingalls family barn when he learns Larabee wants to shoot them, believing that they are the ones responsible for killing several of his sheep. Things turn deadly when a pack of feral dogs advance on the barn, trapping Andy, Laura, Mary, Carrie and Bandit inside, leaving them to rely on Jonathan, and even more so, Bandit and the mother wolf, to save them from being mauled.




74
6
"The Creeper of Walnut Grove"
William F. Claxton
John T. Dugan
October 24, 1977
4006
Laura and Andy become detectives to solve a series of burglaries in Walnut Grove. After an incident at the Olesons', Charles becomes very angry with Laura.

Things get worse when Laura sets some traps to catch the culprit, but winds up catching Charles instead (at one point, causing him to be doused with green paint). Eventually, it is discovered that a boy named Timothy Ferrel was the burglar all along, stealing to support himself and his ill father.

75
7
"To Run and Hide"
Michael Landon
John T. Dugan
October 31, 1977
4001
When Dr. Baker is unable to save a patient, he feels it was due to his incompetence and resigns as Walnut Grove's doctor. While he tries his hand out at farming, a new physician, Dr. Logan, accepts a call to replace him. However, Dr. Logan proves to be ill-tempered and has no compassion for his patients, prompting Charles to go all-out to convince Dr. Baker that he really is a good doctor and that the people of Hero Township need him.




76
8
"The Aftermath"
William F. Claxton
Don Balluck
November 7, 1977
4008
Famed outlaw brothers Frank and Jesse James bring their trail of treachery to Walnut Grove. They stake out the town and take aliases while trying to blend into the background, even hiring Mary to do their work. Their cover is soon blown when a posse arrives to arrest the James brothers, causing them to take Mary hostage.
77
9
"The High Cost of Being Right"
Michael Landon
Don Balluck
November 14, 1977
4009
When the Garveys' barn burns down and they lose their entire harvest, Alice wants to take a job at the post office to bring in some money, but Jonathan believes that it is a man's role to support his family and so he forbids it. Their disagreement grows to the point where they intend to get a divorce. However, as they appear before the judge, Charles helps them realize that their love for each other is more important than their differences, and they are reconciled.
78
10
"The Fighter"
Michael Landon
Lawrence Konner
November 21, 1977
4011
When boxer Joe Kagan's career seems to be going nowhere, he chooses to continue boxing rather than keep his family with him. Unable to compete in the professional circuit, he travels to small towns and takes challengers for money. While he is stricken with medical problems, a fight with Charles Ingalls ends his career. After being nursed back to health by Charles, Joe decides to stay in Walnut Grove and make a new living as a farmer. He then finds that his own estranged son is now trying to become a boxer. Now, Joe's biggest challenge is to figure out how to keep his son from making the same mistake he did.




Notes: Originally a 90-minute episode, in syndication it is shown in two parts. Moses Gunn plays the title role of Joe Kagan. Ketty Lester appears as Joe's wife in an introductory flashback; she will later join the cast as Hester Sue Terhune in Season 5's "Blind Journey (Part 2)".

79
11
"Meet Me at the Fair"
William F. Claxton
Bradley Berwick, Ray Berwick & Arthur Heinemann
November 28, 1977
4012
The Oleson and Ingalls families travel to a fair, where Mary hopes to spend time with a boy, Patrick. Instead, she falls for the flattery of Cass, a balloonist and Patrick's wordly employer. Elsewhere, Caroline and Mrs Oleson find they are rivals, Nels and Charles join forces to enter a donkey-riding contest, and Laura quickly loses all her spending money and then has trouble trying to stay with both Carrie and Bandit. Carrie wanders off, falls asleep inside a hot-air balloon basket and wakes up to find herself flying. Patrick helps to rescue her, and Mary finally chooses him over Cass.
80
12
"Here Comes the Brides"
William F. Claxton
John T. Dugan & Robert F. Metzler
December 5, 1977
4010
When Adam Simms (Joshua Bryant) and his shoeless son Luke move to town, Adam instantly takes a liking to Miss Eva Beadle, while Luke and Nellie fall in love. After Nellie talks with Miss Beadle, she and Luke run away to have a very short-lived marriage (about 10 minutes).

In the end, Adam and Eva get married themselves, not only uniting them through their symbolic names, but causing now-Mrs. Eva Simms to become a stepmother, though annoying the officiator and his wife to no end at the ungodly hour they were woken up. (This episode features one of the first looks at the softer side of Nellie's personality. This is also the first time Mrs. Beadle-Simms's first name is used in the series.)

Note: Michael Landon and Karen Grassle both do not appear in this episode.

81
13
"Freedom Fight"
Michael Landon
Ron Chiniquy & Richalene Kelsay
December 12, 1977
4013
An Indian tribe comes to Walnut Grove asking for medical help for their sick chief. Doc Hiram Baker agrees to help and Charles goes with him, but they are opposed by a group of citizens who have memories of relatives and neighbors who were killed by Indians and want to take revenge and attack them.

However, the tribe moves on, except that, Charles hides the tribe leader at his farm while he recovers. When their secret is discovered, Charles and the Doc help the chief and his family rejoin their tribe and make good their escape.

82
14
"The Rivals"
William F. Claxton
Hindi Brooks
January 9, 1978
4014
Charles and Jonathan compete against another team to win a freighting contract.

Laura feels the first stirrings of attraction to a boy named Jimmy Hill (Chris Petersen) with whom she has previously enjoyed playing baseball and going fishing, but he does not respond in the same way. When a new girl arrives in school who looks like a rival, Laura decides she must compete for him by giving up her 'tom-boy' behaviour and becoming more like Nellie. Charles and Jonathan unexpectedly win the freighting contract, but, as they celebrate and make big plans, they realize that it would involve them not seeing their families for long stretches of time, so they refuse the contract. When Laura's new strategy does not work, her Ma persuades her that she should be true to her real self. Eventually, Jimmy does notice her as a girl, and Laura has her first kiss with a boy.

Note: Michael Landon appears with a pronounced limp and a dressing on his left foot. Charles refers to his "busted foot" but there is no explanation of how it happened.

83
15
"Whisper Country"
Michael Landon
John Hawkins
January 16, 1978
4015
Mary gets her first teaching job in the backwoods community of Willow Prairie, but she is met with stern opposition from Miss Peel, an elderly woman who has thwarted a previous attempt to establish a school and justifies her actions with a flawed understanding of the Bible.

The husband in the family which gives Mary accommodation has the same harsh beliefs and is also hostile towards Mary. After one of Mary's students tries to kiss her and she hits him to stop him, Miss Peel accuses Mary of being a 'Jezebel', and, feeling outnumbered, Mary retreats home. However, after a talk with her father, she goes back with Charles, and at a church meeting Mary takes on her opponents, and it emerges that Miss Peel cannot read, which is why she misquotes the Bible. As they all sing a hymn, Miss Peel accepts the hand of friendship that Mary offers to her.

Note: Melissa Gilbert does not appear in this episode.

84
16
"I Remember, I Remember"
William F. Claxton
Arthur Heinemann
January 23, 1978
4016
On Charles' and Caroline's anniversary, Charles is stuck on the road in the rain with a broken wagon wheel, making him late home for their celebration meal. While they are waiting, Caroline tells the children the story of how she and Charles met, eventually revealing that she learned that he always has a good reason for keeping her waiting. In flashback: the day they met, Charles' troubles in school, and their first dance.




Notes: This is Matthew Laborteaux's second appearance playing young Charles Ingalls. Laborteaux joins the cast in season five, playing Albert. Sorrell Booke (later Boss Hogg on CBS-TV's The Dukes Of Hazzard series) appears as Mr. Watson, the teacher.

85
17
"Be My Friend"
Michael Landon
Michael Landon
January 30, 1978
4017
While out fishing, Laura finds a bottle in the creek with a note inside that reads "Be my friend". She eventually persuades Charles to help her look for the writer of the note, but instead they find an abandoned baby.

Laura looks after the baby, who she names Grace, while Charles tries to find the parents. Charles first locates the young father, Bobbie, and together they find the mother who is his beloved, Anna. They had wanted to marry but she was taken away by her strictly religious father who is deeply embittered because his wife went off with another man. Fearing his reaction, Anna had managed to keep secret that she was pregnant and even that she had given birth, but then realized that she could not keep the baby while staying with her father. Bobbie takes Anna back with him, while her father chooses to stay alone in the woods. Anna is reunited with her baby, telling Laura she will keep the name Grace.

Note: Originally a 90-minute episode, in syndication, it is shown in two parts.

86
18
"The Inheritance"
William F. Claxton
Arthur Heinemann
February 6, 1978
4018
A lawyer visits to tell Charles that he is the heir to the extensive estate of his late Uncle Ned, who owned a business—Ingalls Carriage Company—and a large house in St Louis. Mrs. Oleson is suddenly keen to socialize with them, but other people treat them differently.

Charles and Caroline uncharacteristically run up a large debt at the Oleson Mercantile. When the lawyer returns after winding up the estate, he explains to Charles that, because of Uncle Ned's eccentric and profligate lifestyle, his whole estate was eaten up by debts and legal costs, and all that is left is a box containing worthless Confederate banknotes. Mrs. Oleson immediately forecloses on the Ingalls farm, but their friends in town come up with a plan to help them keep it. Meanwhile, Laura and Andy use the Confederate money to decorate the inside walls of their new clubhouse.

87
19
"The Stranger"
Michael Landon
Arthur Heinemann
February 13, 1978
4019
Nels' cousin sends his 12-year-old son, Peter, to Walnut Grove after the boy's behavior grows unmanageable. Mrs. Oleson babies the boy, prompting a frustrated Nels to turn to Charles for assistance in rehabilitating Peter, which leads to a reconciliation between Peter and his father.
88
20
"A Most Precious Gift"
Michael Landon
Carole Raschella & Michael Raschella
February 27, 1978
4020
Charles has always wanted a son, and has another chance to get one when Caroline announces she's pregnant. But Caroline fears how Charles will react if the baby is a girl, especially after Mrs. Beadle-Simms has a boy herself. Eventually, it's all for naught, as Charles loves his baby Grace just the same.
89
21
"I'll Be Waving As You Drive Away (Part 1)"
William F. Claxton
Carole Raschella & Michael Raschella
March 6, 1978
4021
This episode spans a couple month period that sets the stage of the direction of the show. Just as Mary falls in love with newcomer Seth Barton, her farsightedness begins to worsen. Charles takes her to an optometrist and she initially appears to need a stronger lens but the vision still worsens a few days later. She returns to the eye doctor, the doctor discovers she had scarlet fever a few years back. so as a result of this complication Mary's vision cannot be saved and she will soon go blind. In denial, Charles does not tell his daughter until about few days before she wakes up and finds to her horror she is completely blind. Mary becomes very bitter over her predicament and having to rely on others for basic needs. Her parents decide to send her off to a blind school in a neighboring state.

Meanwhile, during this time, Charles, Jonathan Garvey, and the rest of the town of Walnut Grove have another problem as the whole of the township is threatened by an escalation of a dispute between The Grange and the railroads. This causes crops and other items to not be able to be sold and traded. This disables the bank, causing financial problems for the entire town. There seemed to be no hope for the town at this point. At the end of the episode, though Charles drives Mary to the blind school where she will be for the next few months.

In 1997, TV Guide ranked this episode (along with Part 2) #97 on its list of the 100 Greatest Episodes.[1] In 2009, it moved to #71.[2]

90
22
"I'll Be Waving As You Drive Away (Part 2)"
William F. Claxton
Carole Raschella & Michael Raschella
March 13, 1978
4022
This episode also takes place over a several month period and picks up where part one left off. Mary, who had just gone blind, is sent to a blind school in Iowa, where she meets Adam Kendall. Mary refuses to accept Adam's help at first, but he eventually helps her learn to deal with her blindness and a relationship blossoms between the two. Adam, though reveals to Mary that he is also blind.

He is also leaving this large blind school to accept a better teaching position at a smaller school in Winoka. He invites Mary to also come with him and also teach there. In order to say goodbye, she does return to Walnut Grove temporarily. Before she leaves, he says a key line that serves as the title of this episode. Meanwhile, Charles and Caroline have had another problem as the whole of the township of Walnut Grove is threatened by an escalation of the dispute between The Grange and the railroads. When the school had closed for the summer with no plans to reopen that fall, the teacher, Mrs. Beadle-Simms, and her husband make the decision to leave Walnut Grove. Charles and Caroline decide in order to be with Mary where she will be teaching to also move to Winoka. They vacate their home and farm and do not even put it up for sale. No one would buy it anyway in the shape Walnut Grove was in. The Garveys also follow suit and decide to leave as well. The Olesons prepare to move also and close the mercantile. On the last church service, Mary shares her testimony with the congregation and has accepted her condition well and is ready to go on with her new life with Adam in Winoka.

Notes: This marks the first appearance of Linwood Boomer as Adam Kendall, and the final appearance of Charlotte Stewart as Mrs. Beadle-Simms. Ebenezer Sprague, the banker, is also said to leave Walnut Grove in the wake of the town going bankrupt.

In 1997, TV Guide ranked this episode (along with part one) #97 on its list of the 100 Greatest Episodes.[3] In 2009, it moved to #71.[2]
Episodes
References
External links
Community content is available under
CC-BY-SA
unless otherwise noted.