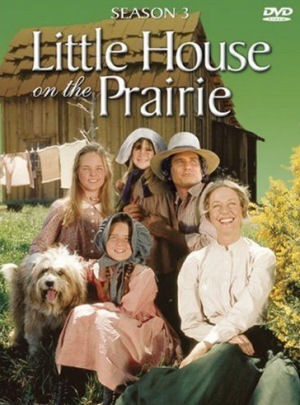 Little House on the Prairie: Season 3 is a DVD box set that includes all of the episodes from season three of the Little House on the Prairie television series. It was released in region one format on November 4, 2003 and in region two on March 10, 2008. In the United States, episodes from season three aired from September 27, 1976 to April 4, 1977.
Season three of the series ranked in at number 16 in the television rankings for 1976-1977.[1]
Season notes
Laura gets her horse Bunny back from Nellie after Nellie fakes being paralyzed. Laura and Nellie also compete in a horse race in which Laura wins despite Nellie having a prized thoroughbred horse. Later when Lansford Ingalls arrives and Laura shows off her riding skills to him. Tragically while doing so Bunny races through a barbed wire fence and must be put down.
Lansford Ingalls, the father of Charles, comes to visit after the death of his wife and mother of Charles, Laura. He is very depressed at his lost and after a less than promising start Laura helps him recover.
Principal Cast
Recurring Cast
Season 3 (1976–1977)
Season 3 episodes
No. in series
No. in season
Title
Director
Writer(s)
Original air date
Prod. code
47
1
"The Collection"
Michael Landon
Arthur Heinemann
September 27, 1976
3008
Reverend Alden gets badly hurt while on his way to collect donations for a struggling town in another part of his parish. Caleb Hodgekiss, an ex-convict, finds him and takes him to his house where his wife takes care of him. Hodgekiss volunteers to get the donations from Walnut Grove, but plans to take the donations for himself. However, his experiences with the people of Walnut Grove, especially Mary, bring about a change of heart.




48
2
"Bunny"
Michael Landon
Michael Landon
October 4, 1976
3001
Nellie has been mis-treating Bunny, who was Laura's horse until she sold it to Mr. Oleson (in "Christmas at Plum Creek"). When Nellie falls off the horse and appears to be seriously injured, Mrs. Oleson blames Laura and wants Bunny to be destroyed, so Laura takes Bunny and hides him. Nellie exploits Laura's guilty feelings, but then Laura makes a discovery which leads to a comeuppance for Nellie, and Bunny becomes Laura's horse again.
49
3
"The Race"
William F. Claxton
John V. Hanrahan
October 11, 1976
3005
In the Hero Township horse race, Laura and her horse Bunny go head-to-head with Nellie and her new thoroughbred, which Mrs. Oleson has bought for her, against the wishes of Nels. Laura has to battle all kinds of adversity and needs a pep-talk from her Pa when she begins to feel sorry for herself. However, Nellie does not properly prepare for the race, so the stage is set for a close finish.

Note: On the original Lionsgate/NBC DVD set, this episode is placed before "Bunny". However, this results in the changes in ownership of Bunny not following their correct sequence. This sequencing error was corrected on the "Deluxe Remastered Edition" which bears a 2014 copyright date.

50
4
"Little Girl Lost"
Michael Landon
Paul W. Cooper
October 18, 1976
3006
Carrie goes along with Laura and Mary when they go out collecting insects for a school project, but Carrie wanders off and falls into an abandoned mine shaft. As the townspeople battle to find a way to rescue her, Lars Hanson clashes with the man he blames for the death of the woman he loved.




51
5
"The Monster of Walnut Grove"
William F. Claxton
John Hawkins
November 1, 1976
3007
Laura's imagination runs wild on Halloween when she sees Nels apparently cutting off Mrs. Oleson's head, but only Carl will believe her. Laura makes the mistake of telling Nellie and Willie, and they have some fun at Laura's expense.
52
6
"Journey in the Spring (Part 1)"
Michael Landon
Michael Landon
November 15, 1976
3011
When Charles' mother passes away, he travels to Wisconsin and persuades his father, Lansford Ingalls (Arthur Hill), to go back with him to Walnut Grove. While staying with Charles and his family, Lansford begins to form a special relationship with Laura, and this is strengthened when he tells Laura that she was named after her grandmother, Lansford's wife.




Note: This is the first appearance of Matthew Laborteaux and Hersha Parady. In flashback scenes, Laborteaux plays young Charles Ingalls, and Parady plays Eliza Anne Ingalls, Charles' sister-in-law. Both actors later joined the cast playing other characters, Parady in season four as Alice Garvey and Matthew Laborteaux in season five as Albert Quinn Ingalls, the Ingalls' adopted son.

53
7
"Journey in the Spring (Part 2)"
Michael Landon
Michael Landon
November 22, 1976
3012
Laura continues to remind her grandfather, Lansford, of his deceased wife, and their relationship continues to grow. However, it falls into jeopardy when Bunny, Laura's horse, is badly injured and has to be put down. Laura's grief becomes anger against Lansford, which makes him go away without warning, but that brings about a change of heart in a repentant Laura.




54
8
"Fred"
William F. Claxton
Robert Vincent Wright
November 29, 1976
3002
Laura is tricked into adopting a "unique" billy goat, named Fred, but he quickly becomes unpopular when he helps himself to the Ingalls family's crops and exhibits a particularly unpopular behaviour. Laura is instructed to get rid of her new pet, but that proves to be difficult.
55
9
"The Bully Boys"
Victor French
B.W. Sandefur
December 6, 1976
3009
The Galender brothers settle in Walnut Grove, causing trouble for the entire community by intimidating and terrorizing the inhabitants. When Caroline becomes one of their victims, Charles decides to take action.




56
10
"The Hunters"
Michael Landon
Harold Swanton
December 20, 1976
3003
Charles is seriously injured while on a hunting trip with Laura. The only person she can find to help her is Sam (Burl Ives), who is almost blind, but still able to find his way in the forest. Together, they manage to get Charles to Sam's cabin and then they go out to find medical help.




Note: Originally shown as a 90-minute episode, in syndication, it is shown in two parts.

57
11
"Blizzard"
William F. Claxton
Paul W. Cooper
December 27, 1976
3013
When a serious snowstorm threatens to strand the children in the schoolhouse on the last day before Christmas vacation, Miss Beadle dismisses the children early. Unfortunately, many are unable to get home and the men of Walnut Grove must organize a search party. But for one particular family, it will not be a merry Christmas.
58
12
"I'll Ride the Wind"
William F. Claxton
Paul W. Cooper
January 10, 1977
3010
John is offered a scholarship in Chicago that will allow him to live his dream of becoming a writer. This causes Mary and John much heartache, as they must decide whether to remain together or risk a separation for the sake of John's career.
59
13
"Quarantine"
Victor French
John Hawkins
January 17, 1977
3015
Mr. Edwards and Doc Baker provide help to a nearby town during a mountain fever epidemic. When Mr. Edwards returns, Walnut Grove is placed under quarantine and Alicia, Mr. Edward's adopted daughter, becomes ill with the disease. Laura, unaware of the danger, visits the Edwards' home and helps nurse her friend back to health.
60
14
"Little Women"
William F. Claxton
Dale Eunson
January 24, 1977
3014
While Laura and Mary prepare a play for school with Ginny Clark, they learn that Ginny wants her mother, who is a single parent, to date again. Ginny decides to use the play to help her mom gain the confidence necessary to meet new people.
61
15
"Injun Kid"
Victor French
Arthur Heinemann
January 31, 1977
3004
After the death of his father, Joseph Strokes, the half-breed son of a Sioux Indian and a white woman, moves to Walnut Grove. Joseph and his mother move in with her father, Jeremy. However, the old man rejects Joseph because he feels angry and ashamed that his daughter married an Indian. After Joseph gets attacked by bullies, his grandfather has a change of heart and shows up at school to reveal Joseph's father.
62
16
"To Live With Fear (Part 1)"
William F. Claxton
B.W. Sandefur
February 11, 1976
3016
Mary is severely injured when a horse kicks her in the stomach while she is putting him away in the barn. When her condition deteriorates, it becomes clear she needs an expensive surgery to save her life. Charles and Mr. Edwards are forced to take dynamiting jobs for the railroad to fund the surgery.




63
17
"To Live With Fear (Part 2)"
William F. Claxton
John Hawkins
February 21, 1977
3017
Mary needs more surgery, something that weighs heavily on Charles' mind as he feverishly works to earn enough money for his daughter's surgery. Eventually, a fatigued Charles causes an accident that traps him and a co-worker inside. Mr. Edwards leads a harried but courageous effort to save the two men's lives.
64
18
"The Wisdom of Solomon"
William F. Claxton
Scott Swanton
March 7, 1977
3019
Solomon Henry (Todd Bridges), an 11-year-old black boy, runs away from his family because he is tired of being treated differently. He lives with the Ingalls family for a while and during his stay is pleased to be able to attend school.
65
19
"The Music Box"
Michael Landon
Robert Janes
March 14, 1977
3020
Nellie discovers that Laura has "borrowed" a music box from her room and decides to blackmail her. In order to stay quiet about Laura's crime, Nellie demands that Laura abandon her new friend Anna (Katy Kurtzman), who has a stutter, and join her new club. Eventually, Charles discovers what happens and teaches Laura a lesson about lying. In the end, Nellie gets her comeuppance, as well.




66
20
"The Election"
Victor French
B.W. Sandefur
March 21, 1977
3018
The school holds an election for school president. Mary, Nellie and Elmer, an unpopular boy amongst the children, are in the running. Mary drops out of the race when she realizes Elmer is the best person for the job.




Note: This is Leslie Landon's second appearance in the series. In this episode, she plays Kate, a student who votes for Nellie Oleson. (She also appears in season one's "Plague", season six's "The Third Miracle", and joins the cast in season nine, as Etta Plum.) Landon's real-life son Michael Landon, Jr. also appears, as student "Jim", the blonde boy who votes for Mary Ingalls.

67

---

68
21

---

22
"Gold Country (Part 1)"

---

"Gold Country (Part 2)"
William F. Claxton
ohn Hawkins & B.W. Sandefur
April 4, 1977
3021

---

3022
When heavy rains make it impossible to plant their crops, the Ingalls and Edwards families head west to pan for gold. The promise of becoming rich is realized by only a lucky few, which leads to ill-feeling, lawlessness and even deaths. Laura and Carl come across an ex-miner who has seen the ill-effects of the search for gold and lives like a hermit. Eventually, seeing the bad effect it is having on others, Charles and Mr. Edwards realize that they have riches enough, in the shape of their loving families, and they decide to go home.




Note: Originally aired as a two-hour episode, in syndication, it is shown in two parts. This is the last appearance of Victor French until he makes a guest appearance in Season 6. This is the final appearance of Brian Part as Carl Edwards; the character returns for "A Promise to Keep" in Season 8, but is played by a different actor.
Episodes
References
External links
Community content is available under
CC-BY-SA
unless otherwise noted.