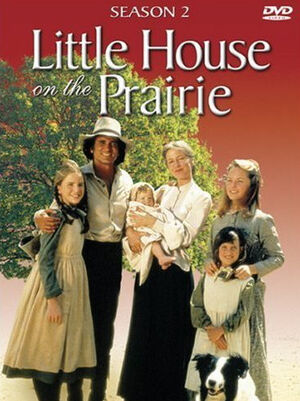 Little House on the Prairie: Season 2 is a DVD box set collection which features all of the episodes from the second series of the television series. It was released in region one on July 8, 2003 and in region two format on March 27, 2006. This is also the only season from the show that was not in the top 30 television rankings.[1]
In the United States, the episodes of season two aired from September 10, 1975 to March 31, 1976. Also to note that the cover is the same photograph from the Season 4 DVD, with the background changed and positions reversed.
Season notes
The beginning of Mary's problems with her eyes.
The relationship and subsequent marriage of Mr. Edwards to Grace Snider and their adoption of the Sanderson children: John Jr., Alicia, and Carl and their life together.
The building and opening of Walnut Grove's first Bank.
The continued rivalry between Laura and Nellie.
Settling and daily life in Walnut Grove.
Principal cast
Recurring cast
Season 2 (1975–1976)
Season 2 episodes
No. in series
No. in season
Title
Director
Writer(s)
Original air date
Prod. code
25
1
"The Richest Man in Walnut Grove"
Michael Landon
Michael Landon
September 10, 1975
2001
A major customer goes bankrupt, so Hanson closes the mill and cannot pay Charles two months' back pay, which means Charles cannot pay off their large tab at the Mercantile. The whole family pitches in to help: Mary sews to earn money while Laura does her chores as well as her own, Caroline helps with the farm work, and Charles toils at two jobs. When Charles pays off the tab, Mr. Oleson wonders which of them is richer.
26
2
"Four Eyes"
William F. Claxton
B.W. Sandefur
September 17, 1975
2002
Miss Beadle and the Ingalls become concerned about Mary's faltering performance in school, until Charles realizes that she has a problem with her eyesight. Mary is excited when she gets a pair of glasses from a doctor in Mankato, but her excitement fades when Nellie and Willie cruelly tease her, even though Miss Beadle also wears glasses. Mary decides to 'lose' her glasses, until she sees Miss Beadle's handsome boyfriend.
27
3
"Ebenezer Sprague"
Victor French
Story by : Ray Goldrup
Teleplay by : Ray Goldrup, John Hawkins & B. W. Sandefur
September 24, 1975
2003
Laura befriends a stranger while out fishing, and is stunned to later discover he is none other than Walnut Grove's new banker. However, she is even more surprised when the man accuses her of being kind to him to secure a loan Pa wants to make.
28
4
"In The Big Inning"
William F. Claxton
B.W. Sandefur
October 1, 1975
2008
It is Walnut Grove vs.Sleepy Eye in the annual baseball game. Accustomed to heavy defeats, Walnut Grove believe they now have a star pitcher in mild-mannered Jebediah Mumfort (Karl Lukas), but his domineering wife threatens to disrupt things, until Caroline comes up with a plan. A hard-fought game, which includes foul play and underhand tactics by Sleepy Eye, comes to a dramatic climax.
29
5
"Haunted House"
William F. Claxton
Joseph Bonaduce
Teleplay by : Gerry Day
October 8, 1975
2006
Although many in Walnut Grove think he's a homicidal maniac who lives in a haunted house, brave Laura Ingalls befriends mysterious hermit, Amos Pike, and soon discovers the truth behind both the rumors and the old man's reclusive life.
30
6
"The Spring Dance"
William F. Claxton
Gerry Day
October 29, 1975
2004
Laura and Grace Snider both need dates for the annual Spring Dance, but those they have their eyes on seem not to be interested. Caroline shares with them a 'womanly wile' she used on Charles to get his attention, but when Laura and Grace try it the consequences are not what they had hoped for. Then Charles reminds Caroline of what actually happened when she tried it on him, and she changes her advice to Laura and Grace, with a happier outcome.
31
7
"Remember Me (Part 1)"
Michael Landon
Michael Landon
November 5, 1975
2009
A widowed mother named Julia Sanderson (Patricia Neal) learns she has a terminal illness and, with no close relatives to care for her three children, John Jr., Carl and Alicia, she gets Charles to promise to find the children a new home after she dies. Meanwhile, Laura and Mary rescue some abandoned puppies, and the relationship between Mr. Edwards and Grace Snider begins to blossom.
32
8
"Remember Me (Part 2)"
Michael Landon
Michael Landon
November 12, 1975
2010
After Julia Sanderson's death, her three children stay with Grace, with help from Mr. Edwards. When Charles is unable to find someone to adopt all three children, he has to make the difficult decision to place them in separate homes. At the very last minute, Mr. Edwards makes a monumental decision: he marries Grace - and they take on all three children.
33
9
"The Campout"
Gerry Day
William F. Claxton
November 19, 1975
2006
The Olesons get themselves invited onto the Ingalls family campout, after Nellie complains that it will give Laura and Mary an advantage for the school holiday project of leaf-collecting. The two man bond while fishing and their wives try to improve their relationship, but the children continue to clash. However, when Nellie falls into a river, her later false account of what happened brings out the same Mrs. Oleson. Back at the school. the result of the leaves project gives some satisfaction to Laura and Mary.
34
10
"At the End of the Rainbow"
Michael Landon
Arthur Heinemann
December 10, 1975
2005
While Laura is fishing with her new friend Jonah, they think they have discovered gold. They resolve to keep it a secret, especially from Nellie and Willie, and the two friends spend all their spare time digging it out. Laura fantasizes about her family being very, very rich - and the Olesons being dirt-poor. When the friends finally take it to the bank for safe keeping, Mr. Sprague delivers some very unwelcome news.
35
11
"The Gift"
William F. Claxton
Rocci Chatfield
December 17, 1975
2013
The children of Walnut Grove pool their money to buy Reverend Alden a birthday gift and entrust Mary with the cash. Laura persuades Mary to use the money to try to make more money, and thus enable them to buy a better gift. After a lot of effort for no returns, they have to face the music and tell Reverend Alden what they have done. In church on his birthday, the Reverend finds a silver lining to the cloud over Mary's head.
36
12
"His Father's Son"
Michael Landon
Michael Landon
January 7, 1976
2015
Mr. Edwards wants to bond with his adopted son, John Jr., and buys him a rifle for his birthday so that he can pass on to him his skills in hunting. In fact, John Jr. doesn't want to kill animals and prefers reading and writing poetry, but Mr. Edwards is reluctant to accept that and insists they go on a hunting trip. During the trip, things do not go as planned, but a frightening encounter eventually leads to Mr. Edwards and John Jr. becoming closer.
37
13
"The Talking Machine"
Victor French
Harold Swanton
January 14, 1976
2012
Laura and Nellie vie for the affections of a new schoolboy named Jason ([[Eric Shea]), who has a keen interest in science. When Jason chooses to spend time with Laura rather than Nellie, even with the advantage of her new "talking machine", Nellie uses the machine to get back at Laura. When Charles tells Nels what Nellie did, he takes drastic action. Later, at school, there is a happy ending for Laura and Jason.
38
14
"The Pride of Walnut Grove"
William F. Claxton
Arthur Heinemann
January 28, 1976
2014
Mary wins a place in a statewide math competition, but when Charles cannot afford the cost of the trip to Minnesota for her and Caroline, Laura is pleased to play a role in getting the town council to foot the bill. However, this causes Mary to worry she will let down the whole town if she fails to win, but her return to Walnut Grove dispels her fears. With her Ma away, Laura keeps the home fires burning!
39
15
"A Matter of Faith"
William F. Claxton
B.W. Sandefur
February 4, 1976
2011
Charles and the girls go on a camping trip, with Caroline planning to join them later. Previously, Caroline had scratched her leg on a piece of baling wire, and the minor scratch turns into a serious infection. Unable to summon help, she is about to succumb to her illness, but she is inspired by a passage in her Bible to perform a painful procedure, which later impresses even Doc Baker.

Note: The Bonanza episode, "A Matter Of Circumstance", uses a similar theme to this episode.

40
16
"The Runaway Caboose"
William F. Claxton
Story by : Ernie Durham
Teleplay by : John Hawkins and Ernie Durham
February 11, 1976
2016
Inspired by learning about the railroads at school, Mary, Laura, and Carl resort to underhand tactics to join their fathers on a haulage trip to Springfield, so that they can see real trains. At the train station, the children's curiosity takes them too far and they find themselves in a runaway caboose. Charles and Mr. Edwards set off on a race against time to prevent a head-on collision with another train.
41
17
"Troublemaker"
Victor French
John Hawkins
February 25, 1976
2019
Miss Beadle is relieved of her duties as schoolmistress when the town council decide she cannot control the older students. In her place, they appoint Hannibal Applewood (Richard Basehart), a strict disciplinarian. Influenced by Mrs. Oleson's gossip, Mr. Applewood singles out Laura as the class troublemaker. When the other students fight back and feelings run high, Charles convinces the rest of the town council to think again.
42
18
"The Long Road Home"
Michael Landon
John Hawkins
March 3, 1976
2017
When a bumper harvest causes a huge fall in the price of their wheat, Charles and Mr. Edwards take very well-paid jobs freighting highly explosive blasting oil for railroad construction. Travelling with them are a black man (Louis Gossett, Jr.), who has done the job many times before, and a white man with a colour prejudice (Richard Jaeckel). Rough roads and bandits are just some of the problems the four men have to deal with.
43
19
"For My Lady"
William F. Claxton
B.W. Sandefur
March 10, 1976
2020
To buy Caroline a new set of china, Charles secretly takes a woodworking job for an attractive young widow ([[Mariette Hartley]). However, Mrs. Oleson's gossip plants a suggestion in Caroline's mind that there is more going on than woodworking behind closed doors. Laura and Mary have their own suspicions and decide they need to try to "win Pa back" with plans of their own.
44
20
"Centennial"
William F. Claxton
John Hawkins
March 17, 1976
2018
It is 1876 and Walnut Grove prepares to celebrate the nation's centennial, for which Laura and Mary are making a flag. However, the party is threatened when the state taxes are increased to pay for a road construction scheme. Meanwhile, a Russian immigrant, Yuli Pyatakov, receives an unexpected large bill for back-taxes on his new farm. An impassioned speech about the freedoms they enjoy inspires the town to go ahead with the celebrations.

Guest stars: Theodore Bikel as Yuli Pyatakov, William Schallert as Snell

45
21
"Soldier's Return"
William F. Claxton
B.W. Sandefur
March 24, 1976
2022
Mrs. Whipple's son, Granville (Richard Mulligan), returns to Walnut Grove from Philadelphia where he was an orchestral musician. He sets up as a music teacher and soon has many pupils, including Nellie and Mary. However, an encounter with the son of a man with whom he served in the Civil War brings back painful memories of that time, leading him to relapse into a dangerous addiction.

Note: Mrs. Whipple states that her son "won this fine medal" and Mary later states that he won a medal at the Battle of Shiloh. As the only medal available during the war was the Medal of Honor which resembled the five-pointed inverted star in the episode, it is reasonable that Sgt. Granville Whipple is to be considered a recipient of theMedal of Honor within the fictional aspect of the show.

46
22
"Going Home"
Michael Landon
Michael Landon
March 31, 1976
2021
When a tornado hits, Charles loses his wheat crop and the house and farm buildings are badly damaged. A despondent Charles decides to move the family back to Wisconsin, and he agrees a sale to an elderly couple who had owned the property previously. A crushed Laura prays with the Reverend for Charles to find the strength for them to somehow stay in Walnut Grove. Meanwhile, Mary and John are discovering they have feelings for each other.

Guest stars: E.J. André as Matthew Simms, Lurene Tuttle as Anna Simms
Episodes
References
External links
Community content is available under
CC-BY-SA
unless otherwise noted.