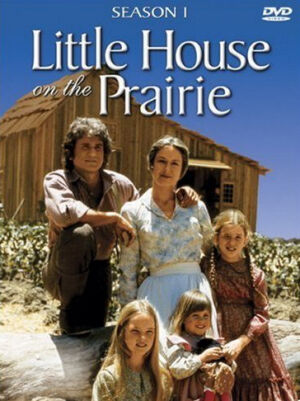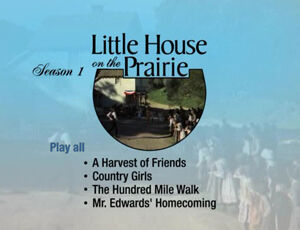 Little House on the Prairie: Season 1 is a six-disc DVD box set that includes the first twenty-four episodes, which excludes the pilot movie of Little House on the Prairie. It was made by the Canadian company Imavision and released in region one July 8, 2003 and in region two on July 25, 2005.
Special features for season one includes character profiles, photo album and the Little House episode quiz. It ranked number 13 on the television rankings for 1974 to 1975.[1]
Season notes
Principal Cast
Recurring Cast
Robert Hoffman VI

as Sandy Kennedy

Wayne Heffley

as Mr. Kennedy

James Vincent McNichol

as

Harry Baker

Kelly Thordsen

as

Baker Makay
Pilot movie
Pilot Movie
No. in Season
No. in Series
Title
Director
Writer(s)
Air date
Production code
0
N/A / Pilot Movie
"Little House on the Prairie: The Pilot"
Michael Landon
Blanche Hanalis
March 30, 1974
N/A
Charles and Caroline Ingalls (Michael Landon and Karen Grassle) move with their three young daughters, Mary, Laura, and Carrie (Melissa Sue Anderson, Melissa Gilbert, and Lindsay Greenbush) from the big woods of Wisconsin to the open prairies of Kansas. Their closest neighbor, Isaiah Edwards (Victor French), helps them settle on the prairie as they encounter fierce storms, destructive fires, and hostile Native American tribes.  Ultimately, the government forces the family off the land in Kansas.
Season 1 (1974–1975)
Caroline (Karen Grassle), Laura (Melissa Gilbert), and Mary (Melissa Sue Anderson) appear in all 24 episodes
Charles (Michael Landon) appears in 23 episodes
Carrie (Lindsay and Sidney Greenbush) appears in 18 episodes
Season 1 episodes
No. in series
No. in season
Title
Directed by
Writer(s)
Original air date
Production code
1
1
"A Harvest of Friends"
Michael Landon
John Hawkins
Teleplay by : John Hawkins & William Putman
September 11, 1974
1002
The Ingalls family moves to the banks of Plum Creek, near Walnut Grove, Minnesota, and Charles gets a job at Hanson's mill for the lumber to build the 'Little House'. Then, needing a plough and wheat seeds to make a crop, he has a disappointing first encounter with the Olesons, and makes a tough deal with the feed and seed merchant, O'Neil. Despite the tough long hours of arduous work on top of his own farm work. Charles copes with his problems until a family picnic in the meadow leads to a serious setback with Charles getting injured after falling out of a tree while attempting to grab their toy kite that got stuck in a branch. When O'Neil wants to strictly enforce the terms of their deal, threatening the Ingalls' prospects, the businessmen of Walnut Grove, who have seen Charles' willingness to work, come to his aid. At the end, Laura reminisces about her father claiming to have reaped a harvest he did not expect: a harvest of friends.
2
2
"Country Girls"
William F. Claxton
Juanita Bartlett
September 18, 1974
1001
Mary and Laura begin their first day of school at Walnut Grove and meet their school teacher, Miss Beadle (Charlotte Stewart). While Caroline has to learn how to deal with Harriet Oleson (Katherine MacGregor), the rich part-owner of Oleson's Mercantile, Laura learns how to deal with the Olesons' spoiled daughter, Nellie (Alison Arngrim). Then Laura encounters an even greater problem, when all the children have to write an essay for Parents' Day, but when the day comes, she creatively rises to the occasion.

Note: There is a similar story in "On the Banks of Plum Creek". In fact, neither version is exactly true to life, as Mary and Laura began going to the Barry Corner School before they left the Big Woods of Wisconsin for Minnesota in 1874.

3
3
"100 Mile Walk"
William F. Claxton
Ward Hawkins
September 25, 1974
1003
Charles is devastated when a hail-storm flattens all the crops in the area. So he has to travel away from home to find work and make some money, and meets up with Jack (Don Knight) and Jacob. Jack has a job as a powder monkey in a quarry, and enables Charles and Jacob to get work there too, where the hard and dangerous work is well paid. Meanwhile, with the men away, Caroline organizes the local wives and children to salvage what they can of the wheat, using only their manual labour.

Note: This is a reference to the 100-mile walk in the book "On the Banks of Plum Creek". In the books, however, it was locusts that ruined a crop and it led to them moving on, unlike the television series where the Ingalls and the Wilder families stay in Walnut Grove through most of the series.

4
4
"Mr. Edwards' Homecoming"
Michael Landon

Joel Murcott

October 2, 1974
1004
While in Mankato, Charles encounters a drunken Mr. Edwards in the midst of a bar fight and takes him back to Walnut Grove. To encourage him to stay, Charles gets him a job at Hanson's Mill, while Caroline quietly sets him up with widow Grace Snider. Their relationship appears to be blooming, until they have a serious difference of opinion.

Note: This is the first appearance of Bonnie Bartlett as Grace Snider.

5
5
"The Love of Johnny Johnson"
William F. Claxton
Gerry Day
October 9, 1974
1005
Laura begins to has a crush on a new boy in school named Johnny Johnson, an older student in her class (Mitch Vogel) but Johnny only wants to be her friend, while he is romantically attracted to Mary who has no interest in him. Laura's jealousy leads to her accusing Mary of deliberately encouraging Johnny and they fall out. Caroline and Charles both have quiet talks with Laura to restore harmony in the family.

Note: In "On the Banks of Plum Creek," Johnny Johnson is the name of the Norwegian, barefoot cattle-herder who works near their first home in Plum Creek.

6
6
"If I Should Wake Before I Die"
Victor French
Harold Swanton
October 23, 1974
1006
After the sudden death of her dear friend, Miss Amy (Josephine Hutchinson) feels lonely for her children and grandchildren who never come visit her. At the funeral, Laura declares that it is not fair for loved ones to ignore a birthday but show up for a funeral, so Miss Amy decides to have her funeral wake before she dies, and she enlists the help of

Doctor Hiram Baker

(Kevin Hagen) and Charles and Caroline.
7
7
"Town Party, Country Party"

Alf Kjellin

Juanita Bartlett
October 30, 1974
1007

While at Nellie Oleson's birthday party, Nellie pushes Laura and hurts her ankle. This leads to Laura becoming friends with Olga Nordstrom (Kim Richards), a quiet friendly girl from her school who was born with a birth defect causing her left leg to be shorter than the other. Charles has an idea for a way to help Olga, despite her embittered father Jon's-(Jan Merlin) lack of support; who doesn't want his daughter to go anywhere in her condition. Then, when the Ingalls girls have their own party with their friends from school, Laura exacts her revenge on Nellie. Meanwhile when Jon find out that Charles was fixing Olga's shoes, he goes to the Ingalls house to confront him where the two of them begin to physically attack each other; suddenly the fight abruptly comes to a stop when Jon tearfully sees his daughter happily playing with the other children. Note: In "On the Banks of Plum Creek", a chapter by the same name has a similar story.

8
8
"Ma's Holiday"
Leo Penn
Dale Eunson
November 6, 1974
1010
Charles decides to surprise Caroline with a romantic holiday in Mankato for just the two of them. When Grace Snider falls ill, Laura and Mary persuade Mr. Edwards to stay and look after the girls, but he discovers that they, and especially Carrie, can sometimes be hard work. Meanwhile, despite Charles' best efforts, Caroline cannot stop thinking about the children.
9
9
"School Mom"
William F. Claxton

Jean Rouverol


Teleplay by : Ward Hawkins
November 13, 1974
1011
When Miss Beadle is injured and ordered to rest by Doc Baker, Caroline is invited by the school board to take over as substitute teacher of the Walnut Grove School. One of the older students, Abel McKay (Dirk Blocker), is teased by the other children because he is still illiterate, and when Caroline's attempts to help him are undermined by Mrs. Oleson's meddling, he runs out. Caroline then also leaves and vows not to return to the school until she can convince Abel to try again.
10
10
"The Raccoon"
William F. Claxton
Joseph Bonaduce
November 20, 1974
1013
When Laura accidentally breaks her toy doll while playing catch with Mary, Mary finds an orphaned baby raccoon and takes it home, where Laura decides to take care of it. Initially against it, Charles is persuaded by the girls and Caroline to let them keep it and Laura names him Jasper. However, its wild instincts surface and Jasper bites Laura and Jack, and runs away. The girls keep it a secret, but when Charles has to deal with a racoon raiding the chickens and everyone assumes that it was Jasper, it gives rise to a frightening possibility for Laura and Jack. The family are overjoyed when Jasper later returns.
11
11
"The Voice of Tinker Jones"
Leo Penn
Tony Kayden &

Michael Russnow

December 4, 1974
1012
When Reverend Alden (Dabbs Greer) asks for donations for a bell for the church building, Mrs. Oleson announces that she and her husband will donate a large bell, along with a plaque with their names on. This divides opinions in the town, with strong feelings on both sides, causing Reverend Alden to feel he is to blame and so he decides he should leave. The situation is saved by a popular mute coppersmith, Tinker Jones (Chuck McCann), who enlists the help of the local children in making their own bell.

Note: Sean Penn appears as an extra (his father, Leo Penn, directed the episode).

12
12
"The Award"
William F. Claxton
Michael Landon
December 11, 1974
1014
While Charles and Mr. Edwards are away for three weeks on a delivery trip for Mr. Hanson, Mary is enthralled by the prize to be awarded for the best score in an extra-credit examination, a Webster's Dictionary. However, her late-night studying causes a fire in the barn, resulting in Caroline forbidding her to take the examination, but Mary decides to take the test anyway. When Caroline finds out the truth, she prepares for a showdown with Mary, but there is another surprise in the offing for her, and mother and daughter are reconciled.

Note: Michael Landon does not appear in this episode.

13

---

14
13

---

14
"The Lord is My Shepherd (Part 1)"

---

"The Lord is My Shepherd (Part 2)"
Michael Landon
Michael Landon
December 18, 1974
1008

---

1009
The Ingalls family is delighted by the birth of a baby boy, Charles Frederick Ingalls, but Laura becomes jealous about the attention he receives from Charles and refuses to pray for her new brother's good health. When the baby dies soon afterwards, Laura is crushed with guilt, and Reverend Alden advises that she needs to get closer to God. So Laura runs away from home and climbs a mountain, where she prays to God that she should take the place in Heaven of her baby brother so that the baby may come back to life. As Charles and Mr. Edwards search for Laura, she is looked after by Jonathan, a heaven-sent stranger (Ernest Borgnine) who helps her realize how much she really means to her father.


Note: Originally aired as a 93-minute episode (excluding commercials), in syndication, it is shown in two parts.

15
15
"Christmas at Plum Creek"
William F. Claxton
Arthur Heinemann
December 25, 1974
1015
When Christmas comes around, all the Ingalls are caught up in the secrecy and excitement. Charles and Mary take jobs to obtain gifts for their loved ones, but Laura cannot think of what to give or how to raise money, until she realizes she has something of value in her horse, Bunny, which Nels Oleson (Richard Bull) wants to buy for Nellie. Christmas Day brings some surprises, and Carrie learns the meaning of Christmas.

Note: This is the first episode involving the horse named Bunny, which will figure in a story arc in season three.

16
16
"Family Quarrel"
William F. Claxton
Ward Hawkins
January 8, 1975
1016
Nels and Harriet Oleson both go a bit too far in what they say during one of their squabbles, and they decide to separate, with Harriet taking the children back east. The Ingalls and other townspeople make various attempts to get them to settle their differences.
17
17
"Doctor's Lady"

Lewis Allen

Story by : Arthur Heinemann and 

Ann Beckett


Teleplay by : Arthur Heinemann
January 15, 1975
1017
When Harriet Oleson's niece, Kate Thorvald (Anne Archer), comes to visit, she and Doc Baker fall in love, but Kate has to give him lots of encouragement to court her. Influenced by the opinions of townspeople, Doc gives a lot of thought to the age difference between them, and wavers between his love for Kate and his concern for what is best for her. When Kate accompanies him on a visit to deliver a baby to a woman whose own birth he had attended, it brings their situation into sharp focus for both of them and leads to the Doc making a difficult decision.
18
18
"Plague"
William F. Claxton
Story by : 

William Keys

& Michael Landon
Teleplay by : Michael Landon
January 29, 1975
1018
A typhus outbreak hits Walnut Grove, so Doc Baker advises everyone to stay in isolation in their homes. While out hunting, Charles finds some more victims, so, having been exposed, he joins Doc Baker and Reverend Alden, quarantined in the church, which is set up as a makeshift hospital. Later, Charles is devastated to see his dear friend Mr. Edwards sick with the typhus, but something Edwards says helps Charles and the Doc find the source of the disease.

Note:Leslie Landon, Michael Landon's daughter, makes her first appearance of the series, playing a typhus victim. [She also appears in season three's "The Election", as a school girl, season six's "The Third Miracle", playing the other woman in the stagecoach, season eight's "A Wiser Heart", as a dishwasher, and in season nine ("A New Beginning"), she joins the cast as schoolteacher Miss Etta Plum.

19
19
"Circus Man"
Victor French
Story by : Preston Wood and Ward Hawkins
Teleplay by : Ward Hawkins
February 5, 1975
1019
A travelling circus man, O'Hara (Red Buttons), with the gift of blarney and sleight of hand skills, persuades Charles to allow him to stay at the farm, where he charms Laura and Mary with his tricks and his animals. But when some of the townspeople prefer his 'miracle powders' to Doc Baker's medical treatment, the Doc gets Charles to send O'Hara on his way. Then their dog, Jack, is injured, and Laura is convinced that only O'Hara can heal him, so Charles fetches him back to tell Laura the truth.
20
20
"Child of Pain"
Victor French
John Meston
February 12, 1975
1020
Miss Beadle and Doc Baker discover that a boy in school named Graham Stewart gets beatings from his alcoholic father, John Stewart (Harris Yulin), but only when Charles angrily confronts him does the father admit he has a problem and ask for help. The boy stays with the Ingalls family, while Charles undertakes to help rehabilitate his father and break him from his dangerous habit.
21
21
"Money Crop"
Leo Penn
Story by : John Meston
Teleplay by : Ward Hawkins
February 19, 1975
1021
A university-educated farmer named Joseph Coulter (Alan Fudge) convinces the farmers of Walnut Grove to invest in planting a new kind of corn, instead of wheat. During his return trip from Minneapolis with the corn-seed, Coulter's wagon runs off the road and crashes down a steep bank. When he is late returning, the farmers become anxious, and some of them cause trouble in town. Charles goes out to look for Coulter, and later the other farmers make amends for their behaviour.
22
22
"Survival"
William F. Claxton
Story by : John Hawkins and Preston Wood
Teleplay by : John Hawkins
February 26, 1975
1022
While returning from a spring family trip to Mankato, the Ingalls receive a twofold warning from a Federal Marshal (Jack Ging): a blizzard is coming, and a dangerous Indian fugitive is on the loose. When they are caught in the blizzard, the family take shelter in an abandoned cabin. Charles nearly freezes to death while out hunting for food, but he is rescued by the Indian fugitive, Jack Lame Horse (Robert Tessier). Meanwhile, the same Marshal has taken shelter with Caroline and the girls, and Charles has the chance to return the favour by saving the fugitive's life.
23
23
"To See the World"
Michael Landon
Gerry Day
March 5, 1975
1023
After Johnny Johnson has an argument with his father, he decides to leave "to see the world", having been influenced by Mr. Edwards' tall tales. He gets a ride with Mr. Edwards on a delivery trip to Mankato, and gets involved with a poker game and a dance hall girl. Edwards, feeling responsible, uses his own money to finance various schemes to persuade the young man to return home.
24
24
"Founder's Day"
William F. Claxton
Story by :

Byron Twiggs

and Ward Hawkins
Teleplay by : Ward Hawkins and John Hawkins
May 7, 1975
1024
Walnut Grove celebrates Founder's Day, and in the competitions Caroline, Laura and Mary find themselves up against the Olesons. Charles just wants to be a spectator and tells his girls that it is the taking part that is important, not the winning. But when Charles is annoyed by the attitude of an aging lumberjack (special guest star

Forrest Tucker

) he is working with, who wants to prove that he is still the "Bull of the Woods", he enters the logging contest determined to win - until he is asked to throw the match to save the old man's pride.
Episodes
References
External links