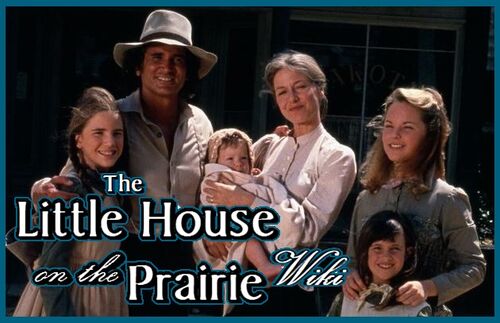 Characters • Episodes • Books
Featured Character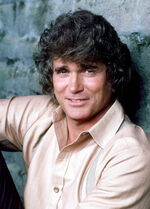 Charles Ingalls is the husband of Caroline Ingalls and the father of Mary, Laura, Carrie, Charles Jr. and Grace; as well as the adoptive father of Albert Quinn, and James and Cassandra Cooper. He is also the patriarch of the Ingalls family. Charles' parents are Laura Colby and Lansford Ingalls. He has two siblings Peter and Polly Ingalls.
Charles grew up in Wisconsin and remained there with his family until it became too populated and it was starting to grow scarce of food. Caroline, Charles and their children left the big woods and went to Kansas. After many hardships they settled for a while but later were ordered to leave by the government because they lived on Indian territory. The Ingalls family then settled in Plum Creek of Walnut Grove, Minnesota. Read On...
Featured Crew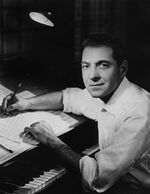 David Rose (June 15, 1910 - August 23, 1990) was a London-born musician and composer who wrote the music for Little House on the Prairie, Highway to Heaven, Father Murphy, and Bonanza. In addition, Rose was musical director for The Red Skelton Show during its 21-year run on the CBS and NBC networks.
Although David Rose was born in London, he was raised in Chicago, Illinois. Rose was married three times: first to actress Martha Raye, then to actress and singer Judy Garland in 1941; they divorced in 1945. His third wife was Betty Bartholomew; they were married until his death. Read On...
Featured Location
Walnut Grove
was a small town in
Minnesota
that was founded by
Lars Hanson
in 1840. It is where
Oleson's Mercantile
,
the post office
,
the church and school
,
the feed and seed warehouse
and
Hanson's mill
were located among others. The Oleson family lived directly in Walnut Grove while the Ingalls family lived in
Plum Creek
, and the Edwards and later the Garveys lived near there as well.
Harriet
and
Nels Oleson
also built
Nellie
a restaurant
in Walnut Grove.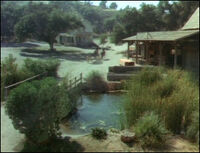 Because of it's generally friendly people and "small town charm", Walnut Grove had many passerbys; some of which took advantage of it's friendly folk such as the Galender brothers. The town did become a ghost town except for Doctor Baker and Lars Hanson when the Ingalls, Olesons and Garveys left to live in Winoka for a time.Read On...
Featured Book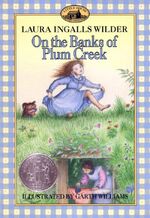 On the Banks of Plum Creek is the fourth book written by Laura Ingalls Wilder in the Little House book series.
The Ingalls family moves from Kansas to Minnesota and settles in a dugout "on the banks of Plum Creek" as in the book's title. Pa trades his horses Pet and Patty to the property owner (a man named Hanson) for the land and crops, but later he gets two new ones at Christmas time, which Laura and her sister Mary name Sam and David. Pa soon builds a fine, new house made of boards, which the family moves into. The house is near a town called Walnut Grove. During this story, Laura and Mary go to school for the first time where they meet their teacher, Miss Eva Beadle. They also meet the mean and snobby Nellie Oleson who makes fun of them for being "country girls". Read On...


Little House Wiki
Little House Wiki is a collaborative encyclopedia dedicated to the Little House on the Prairie which includes the beloved children's book series written by Laura Ingalls Wilder, the NBC television series — and, more recently the Disney miniseries and Little House on the Prairie: A New Musical that stars Melissa Gilbert.
Because of the wiki format, you can create and edit almost any page. So Little House on the Prairie fans can work together to create a wonderful website about Little House. If you'd like to edit, it's easy! just click the edit link on the top of a page, do something and click the "Save page" button and there you have it.
Feel free to edit anonymously or
create a username and sign in
, which, if you do create an account, you won't see any advertisements except on this page. The ads obviously, can be very annoying. There's an overview of the wiki, thanks for stopping by and we hope you'll join our community here!
Recent Changes • Random Page • New Pictures
Twitter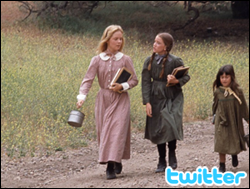 *Please note that the current administrators do not have any passwords for this twitter, so it is not updated regularly. Thanks!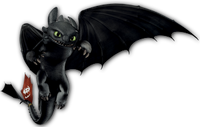 Children's Literature
Go to these sites for info or for help with your own wiki!
Alice's Adventures in Wonderland • Amulet • Anne of Green Gables • The Chronicles of Narnia • Dear America • Goosebumps • The Green Ember • Harry Potter • How to Train Your Dragon • Jumanji • Keeper of the Lost Cities • Little House on the Prairie • The Magic School Bus • Miss Peregrine's Home for Peculiar Children • Night Speakers • Oz • Peter Pan • The Polar Express • The Railway Series • Rainbow Magic • Tracy Beaker • The Unwanteds Series • Wings of Fire • Wonder
Want your community included? See how!