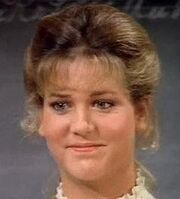 Leslie Landon also known as Leslie Landon Matthews (b. October 11, 1962 in Los Angeles, California) is an American actress, best known from the role of Etta Plum on Little House on the Prairie television series. Her father was Michael Landon and her mother is Marjorie Lynn Noe (known as Lynn Noe).
Career
Leslie played the role of Etta Plum from 1982 to 1984. She also made small guest appearances in four other episodes of Little House between 1975 and 1981.
Siblings
Her brothers are Michael Landon, Jr. and Christopher B. Landon. Her sister is Shawna Landon. She also has a half-sister Jennifer Landon and the half-brother of Sean Landon from her father's third marriage. She has two brothers from her father's first marriage, Mark Landon and Josh Landon and a half-sister Cheryl from her mother's first marriage.
Post-TV career
Leslie Landon graduated from Pepperdine University and has a Ph.D in psychology and currently specializes in children dealing with loss.
Family
Landon has four children with her husband Brian Matthews:
Rachel Lynn (b. October 25, 1993)
Justin Michael (b. May 31, 1995)
Catherine (b. 2000)
Joseph (b. February 2, 2002)
TV Career
Little House on the Prairie
Season One
Season Three
Season Six
Season Eight
Season Nine
Season Ten
Little House on the Prairie Movies
Kate Jones (1982)
The Dream Day - Kate Jones (1982)
External Links
Community content is available under
CC-BY-SA
unless otherwise noted.