Johnny Cash
was born February 26, 1932, in Kingsland, Arkansas. He made his first single, "Hey Porter", for Sun Records in 1955. In 1958 he soon moved to Columbia Records. He had long periods of drug abuse during the 1960s, but later that decade he successfully fought his addiction with the hel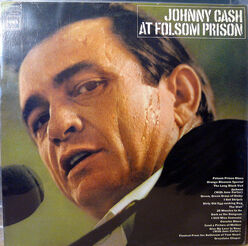 p of singer June Carter Cash, whom he married in 1968. In 1971 he appeared in the western A Gunfight (1971) with Kirk Douglas. Cash made a few films but quite a few appearances on television, both in series and made-for-TV films, and was especially effective as a rural Southern sheriff in the 1930s determined to bring to justice a wealthy landowner who committed murder because he believed he was above the law, in Murder in Coweta County (1983) (TV), a drama based on a true story. In 1975 Cash wrote his autobiography, "Man In Black", which is now out of print. In the late 1980s he moved from Columbia Records to Mercury, then in the next decade moved again to American Recordings.
Amonst his biggest hit records was "I Walk the Line", "Ring of Fire" and "A Boy Named Sue".
After several long years of ill health, he died of complications from diabetes on 12 September 2003, only a few months after the death of his beloved wife.
Community content is available under
CC-BY-SA
unless otherwise noted.