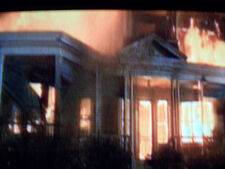 The Harriet Oleson School for the Blind was a blind school located in Walnut Grove.
History
The school was started after the closing of the Winoka School for the Blind due to lack of money. It was called that because Harriet Oleson donated supplies. And of course, she bought a big plaque with her name. The reason she donated supplies was because Hester-Sue Terhune was coming and Harriet did not know she had dark skin, but by that time she already bought everything. (Episode 512: Blind Journey (Part 1), Episode 513: Blind Journey (Part 2) The school was also used as a temporary hospital for many citizens of Walnut Grove after the outbreak of Anthrax brought on by diseased mutton. (Episode 523: Mortal Mission) It was also invaded by a band of escaped convicts on the eve of the school's financial troubles. After the convicts were defeated and recaptured, the reward money for their recapture amounting to thousands of dollars saved the school yet again. (Episode 616: Darkness is My Friend) The school came to an end after it was accidentally burned to the ground by the carelessness of Albert and a friend experimenting with the smoking of cigars in the basement. The fire took the life of Alice Garvey, Jonathan Garvey's wife and Adam and Mary's infant son whom she was trying to save. (Episode 618: May We Make Them Proud (Part 1), Episode 619: May We Make Them Proud (Part 2) Its remaining students were transferred to a school set-up in Sleepy Eye. The school operated successfully for over a year or so till its demise.
Mary, Adam, Mrs. Terhune
Mary, Adam, and Mrs. Terhune are all teachers at the Blind School. Mary and Adam Kendall are both blind, but Mrs. Terhune is not. Mary and Adam are married. Joe Kagan loves Mrs. Terhune, but she doesn't feel the same way.
Trivia
Community content is available under
CC-BY-SA
unless otherwise noted.