Harriet Oleson is the co-proprietor of Oleson's Mercantile with her husband Nels, and is also the local town gossip. Harriet "wears the pants in the family" so to speak, as she makes a lot of the decisions and does most of the business.
Nels usually tolerates this to a point but occasionally makes a stand, for example, not long after the Ingalls family moved to Walnut Grove, Caroline brought some eggs to the mercantile to be used for credit. Harriet was in a snooty mood at the time and said the eggs were not acceptable, Nels disagreed and told Harriet that she should be locked in a cage. Furious, Harriet took the basket of eggs and dumped them over Nels' head while Caroline was watching.
They separated for a time, Nels moved to the hotel and Harriet stayed at the mercantile. They did get back together, despite a useless attempt made by Reverend Alden to get the two together.
It was also revealed in episode, "The Preacher Takes A Wife", twenty-five years earlier Harriet was once engaged to a preacher named Russel, who broke off his and Harriet's engagement due to him not knowing if he loved Harriet or God more.
Children
The Olesons' have three children: Nellie and Willie, and an adopted daughter named Nancy who are usually spoiled and are rarely punished except on a few occasions; such as when Nellie was caught cheating at school. For Nellie's high school graduation, Harriet had Nellie built her own restaurant. In order for the restaurant to run smoother, Harriet hired Percival Dalton and Caroline Ingalls to help out. Soon after Percival and Nellie fell in love and were married by Doc Baker.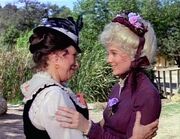 Nellie and Percival stayed in Walnut Grove for awhile, but moved to New York when Percival's father died, so someone could manage the Dalton's family store. Harriet missed Nellie terribly so she and Nels adopted another daughter: Nancy. Nancy's behavior soon worsened after being thoroughly spoiled as well by Harriet.
Personality
Harriet Oleson in a nutshell, is a very stubborn, snooty person, thinking only of herself. Her husband was strongly against this, and tried to discipline her anytime possible. She is not nice, and she often made a fuss about the quality of the eggs Caroline daily bought in. She became better, after Nellie got married, as did Willie, but she never got the reflection of her personality correct. She did spoil her children. It is unknown why Harriet thought Nancy was similar to Nellie, as they were almost completely different, apart from teasing. As for example: Nancy was quite wicked, although Nellie was just snobbish. Harriet was almost going to become less spiteful in the episode: The Campout, but due to Nellie falling in the water with Laura, this changed.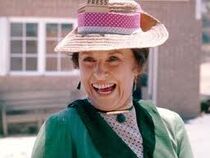 Behind the scenes
Harriet was portrayed by Katherine MacGregor throughout the series.
Background Information
Harriet Oleson (Katherine McGregor) did not appear in the last 3 episodes of the series.
Community content is available under
CC-BY-SA
unless otherwise noted.