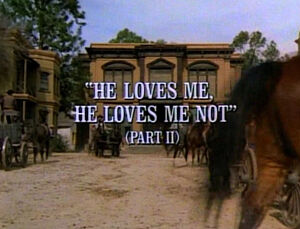 Laura goes to Sleepy Eye to help Mary and Adam get the new blind school ready. She finds that Almanzo has been working in town but he is still angry about her decision not to go against her father's wishes. When he finds out that Laura is having trouble raising the rent deposit for the blind school, he takes a second job.
Unfortunately, while he's working one day, Laura sees him with a saloon girl and believes that he has a new girlfriend. Shortly thereafter, Almanzo becomes gravely ill with pneumonia. Charles finds out and tells Laura what he's been doing for the blind school and his illness. She goes to care for him, and after the matter concerning that "other woman" is cleared up, the two make up. After his recovery, Charles agrees to allow Laura and Almanzo to wait one year before they get married, rather than having to wait two years.
Meanwhile, with Percival's help, Nellie becomes nice, and the transformation is hard for the Ingalls to believe. Eventually, Nellie admits she has feelings – real feelings – for Percival, but says nothing until he announces it's time for him to leave. Mrs. Oleson tries to comfort her daughter, but Nels tells her that, if she wants him that bad, she needs to make her feelings known. It turns out that her proposal was just what Percival was waiting for, and the two marry.
Cast
Guest Stars
Special Guest Star
Co-Starring
Alvy Moore as Mr. Crowley
Robert Wexler as Mr. Pims
Nancy Grahn as Saloon Girl
Featuring
Dan McBride as Custoner #1
Bob Ulrich as Customer #2
Uncredited
Rafael Moscatel: Little Boy
External links
Community content is available under
CC-BY-SA
unless otherwise noted.