Eddie Quillan is an actor who portrayed Kavendish in the Little House on the Prairie television series.
He made seven appearences on the show, and each time played a different character.
Episode 407: To Run and Hide - Jed Haney
Episode 409: The High Cost of Being Right - Judge Picker
Episode 522: Someone Please Love Me - Gargan
Episode 608: The Return of Mr. Edwards - Shorty
Episode 709: The In-Laws (24 November 1980) - Kavendish
Episode 817: Days of Sunshine, Days of Shadow (Part 1)
 (15 February 1982) - Old Timer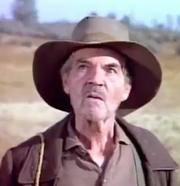 Episode 920: For the Love of Blanche (7 March 1983) - Buffalo Bill 
Community content is available under
CC-BY-SA
unless otherwise noted.